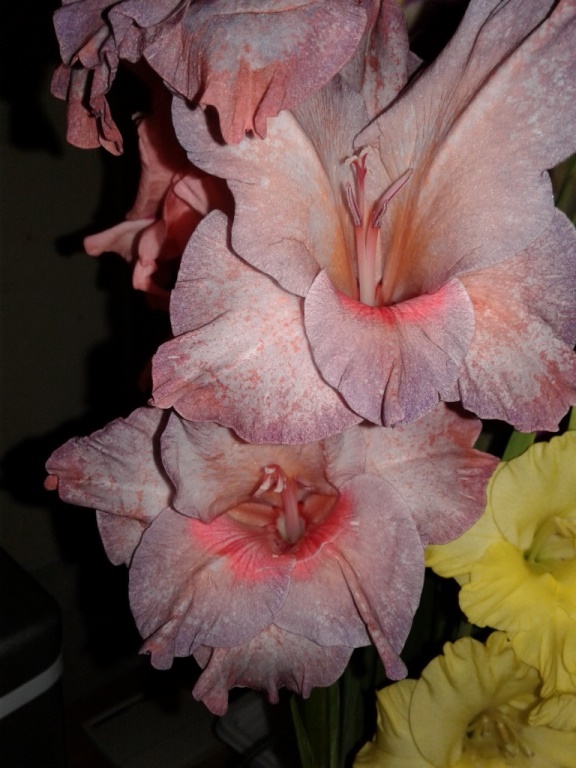 August 1, 2016 - There is a slug on the front door without a shell of any kind, just moving slowly on the door leaving a slime trail as he goes. I don't have the heart to take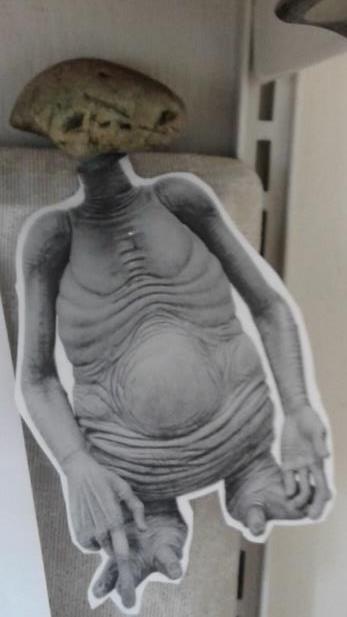 him off the door. He's gone so far and I feel like he deserves to carry on. Go, slug - go.
My glads are blooming in the flower beds to beat the band. I don't plant things that need a lot of attention. These are the glads I got from band fundraisers a LONG time ago that choose to come back on their own. I don't assist them in any way. They just show up every year. Now those types of plants I can grow! My husband brought me a new bunch of glads from the glad farm, and it had the most unique colored flower in it. When he brought them home, it was nearly all a drab purple-ish color, but now the flowers have the prettiest pink in them as they bloom. So cool. I just love my glads. Did I mention I love glads? I love glads!
My boss left me a stone on my desk. He saw it on the ground and he knew I needed this stone. It looks just like the head of E.T. He was very proud of himself that he spotted that. I was happy to have such a cool rock. I printed out the body of E.T. and put it with my rock. Looking up and seeing E.T. near me at work makes me smile every time. Most girls want jewelry... I want dirt and rocks. Smile.
The charges from the item I so "generously bought" for the person in Maryland who stole my credit card info finally hit my card activity yesterday, so today I have to call my card company and have them dispute the charges with Home Depot. Sigh. I thought by the sounds of it Home Depot could stop the shipment and charges, but they failed miserably. The fight continues. At least I caught it right away and had the card cancelled so they couldn't do any more damage with the card. However, they get a nice tool set to sell on Ebay or the like. Sigh. GET A JOB, YOU BUTT MUNCHES.
August 4, 2016 - The Keurig coffee maker makes a lot of sounds that my body can relate to. In the morning it is like Dueling Banjos around here with the sounds my body makes vs the Keurig.
Geeeeeeeeeeeeeeeee... thippppppppp... thwapthwappffffffffft...
Quite entertaining if you are a cheap date such as myself. The Keurig needs cleaning and I need a new body, obviously.
Last night in bed my hair kept blowing in my face due to the fan and all, so I finally pulled it all up into a bun that was apparently too tight. The top of my head is still in a bit of pain from that wise move on my part. I have been massaging the scalp a bit to relieve that. I hope my hair forgives me. I doubt it will though. Lately I've been looking more and more like a female Sammy Hagar in the hair department.
All of my kids are having car issues right now. A mother's belly can hurt worrying about her chicks, even adult chicks. My oldest - his car needs a sensor or something, my daughter has a transmission issue or cruise control issue, and my youngest has no car because the last one we gave him in December finally bit the big one. I think back to the early days of my marriage and remember all the crappy cars we had to drive and all the times I broke down with kids in the car and had to wait for my husband to come to rescue us. I feel for the kids. I have been there and done that over and over again...
Coffee tastes extra good this morning. I am always amazed at that fact. Some mornings I just have a cup and other mornings I have several. Odd.... (sorry, was just thinking out loud there and my fingers kept up with my brain...my fingers know the danger in doing that but sometimes they get cocky.)
I watered flowers last night and it was rather hot out. It was OK if you were not moving, mind you. The flowers were happy. I REALLY need to plant new posies in several little beds as the pansies are all committing late summer suicide and the petunias are out to a foot long to bloom. I will go to a green house tomorrow and see what they have. Plus I can look at fairy stuff, too. Win Win. I have enough fairy stuff, mind you. I doubt I would get more. My sister in law was shaking her head at the fairy gardens when she was here last weekend. She and my husband exchanged some verbal comments about my obsession issue. I go in phases as my whole family can attest.
There was a baby shower at work yesterday and there was SO MUCH FOOD. Of course, in my effort to NOT offend anyone, I had a little of everything several times over. If there is one thing our company can do, it is put on a potluck like nobody's business. I think we should publish individual event cookbooks, though... There are so many tasty things you want to make yourself. I swear every potluck brings out more wonderful dishes. Burp! I was quite sleepy yesterday afternoon after the potluck. I got up and went to the bank about 2 p.m. just to wake myself up. Didn't need to go to the bank, but getting up and driving a bit helped.
My BFF has been using her Facebook account (I hope it is her and not a hacker!) and this thrills me. I have posted to her page over the years, even though I know she didn't participate in FB activities. Now she does, and I can bombard her (like I do everyone else) with useless bits of information. I am sure she will appreciate that to no end. Like any social media or media in general, one has to take the good with the bad and ignore the idiots and choose with news or information they view. Right now with the Presidential race, everything is ripe with crap. I choose not to participate in that kind of crap. I try to stick to things that make me laugh loudly - the fun crap. When it comes to the media, I am sure they are publishing all this crap to divert our attention from the fact that we are invading North Korea or China or something. As humans, we are easily distracted.
My knees are slowly recovering from the June 23rd attempt to detach my legs at the knees. I still have to mentally remind my legs to
bend
when I walk and not try to impersonate Charlie Chaplin. Sigh. As you get older, things don't heal or recover like when you were young and could fly off a swing set from a scary height, face plant in the grass, knock all the air out of your lungs, pass out, and get up to do it all over again. Sigh.
August 8, 2016 - We never trained Jake to respond to whistles so in the morning when I stand out in the yard whistling for him, it is an effort it futility on my part. The only thing Jake really understands is "cookie" and he knows that word well. I should just stand outside yelling COOKIE!!! COOKIE!! Even
I
would come to that yell.
I had a vacation day on Friday and it was a marvelous day. I slept in until 8:30 a.m. but I woke up with a hot dog hangover. (My husband was raving about the hot dogs at work on Thursday for the Employee Recognition Day cookout so mentally I decided I, too, wanted hot dogs. So I took him to a diner that had hotdogs. I ate two chili dogs.) My liver, who is the main deliverer of bile to the stomach now that my gall bladder left on bad terms does NOT appreciate anything with a fat ratio higher than the national debt. Hot dogs fall in to that category. Friday morning I was feeling it, to say the least. Once I got rid of the hot dogs and had my coffee, I felt much better. I took a shower and went to get my hair played with. Oh, it was divine. The girl that did my hair did it WELL, and was tipped heavily. I left there all relaxed and worried I might be pulled over for a DUIHT. (Driving while under the influence of hair therapy.) After that I went up to a green house and walked around their remaining plants. It was hot in there. I sweated so much my pretty hair turned in to my normal hair - curls galore. I did score some awesome flats of marigolds to take the place of my dying pansies in several flower beds. Then I went to another green house down the road from there and got a HUGE petunia potted plant for 5 bucks. I came home and replanted the two flower beds that needed it so desperately. I got totally dirty and I love getting dirty. I am the female version of Pig Pen.
In the front bed I started pulling out dead and dying pansies when a garter snake decided to join me in my efforts. I can't remember the last time I saw a snake in the yard, to be honest. I got the hose and soaked down the bed with cold water hoping to inspire the snake to leave. He/She did not want to leave and just stayed there getting a car wash. I went and got my three pronged rake type thing to pull out the rest of the pansies. It is not so much that I am scared of snakes but the deeply embedded caution of such things as snakes in my genetics that made me jumpy. (Yeah, that's it...) Once I got the old plants out, I did dig in to the dirt to plant the new ones. Where the snake went I have no clue. I do know if there are snakes they are there for a reason and they are eating mouses or the like, so they are doing me a favor. I did not kill him the slithery dude.
I dragged my husband to the farmer's market Friday when he got home from work, and we got some soap from my Soap Lady and a dozen ears of corn from a nice old couple. The corn they had peeled back looked divine. (Lesson learned - don't trust old people in a Farmer's Market when it comes to corn. This batch was nothing like what was displayed and was not sweet at all - but I digress...) We had pizza that night and then sat in the back yard with the cat, dog, and sandhill cranes and enjoyed a beer.
It seems I was busy on Saturday, too - but for the life of me, I can't remember what I did other than make some kick ass potato salad. I am sure I did chores and laundry and such. I know I took a nap! That I remember.
Sunday was a nice day too. I went to see my Aunt at the nursing home. She was not feeling well. She was constantly coughing (no doubt due to her congestive heart failure issues) and that coughing led to full out bile barfing. Once we got her changed and back in bed, I rubbed her back and smoothed her hair. I took her some gladiolus. She can't hear so I wrote a few things down for her to read. She thought it was fall. She looked very pale, the poor dear. Sigh. The nurse brought her some ginger ale and we got some of that down her before I left.
Then I took potato salad over to my Uncle who is still living alone in his apartment. My Aunt Trudy was there and I took her a photo of her daughter in law that she liked so much. I framed it in an old frame I had, but had to tape it in to make it stay. Aunt Trudy did the dishes and I dried while we were there. It was good to see them.
When I got home I made a fiesta salad or my version of one. My goodness, that stuff is good. I could have eaten the whole thing! I microwaved a bag of Steamfresh Fiesta Lime corn and then added tomatoes, onions, jalapenos, cucumbers, green peppers, and cumin, salt, pepper, and chili powder. Yum. We had that with pork chops and potato salad. Marvelous supper if I may say so myself. I watered the neighbor's flowers and then my flowers. They were very thirsty. It hasn't been too horrid hot, but they were dried out to be sure. Thirsty goobers. I was on high alert for snakes....
All in all, my long weekend was very relaxing. I would like to point out another aspect of getting older, though - HEARING LOSS. Friday when I was bent over doing my flowers, I swear a SUV full of young males that drove by were mocking my large bent over backside by wooting. I mumbled to myself, "Their loss, this backside is da bomb!" and "They'd be lucky to have this back side in their bed!" Again, I swear someone in another car wooted at me. Took me a while to realize I was being "wooted" at by a bird in a tree out front and no one going by probably even looked at my fat butt. This made me laugh loudly. Then yesterday we were watching a BBC show 'Frozen Planet' and this show was about life in the Antarctic in the summer. They were showing wolves or the like trying to fell a oxen. The oxen in the show were making loud oxen noises as I would assume an oxen would when being chased by a wolf. I was out in the kitchen getting supper. After a few bleats from the oxen on the TV, my husband yells, "
What!? What do you want
?!" Hahahahahahaha. I had to explain it was not ME bleating but the TV show and I couldn't stop laughing. Moral to the story, kids - it doesn't matter how much you love someone or how long you've been with that person, you are going to end up sounding like an oxen in peril to them down the road so enjoy your coherent conversations now...
August 15, 2016 - Friday I ran home for lunch. On my way out the door, I swear I heard someone in pain next door. There was some kind of moaning coming from the neighbor's yard to the north. (I don't hold that particular neighbor in high regard, mind you.) With my hearing being a bit poor, I decided to take a few steps closer to what I thought was the sound. It
almost
sounded like a female pleasuring themselves or someone else in the the weeds. I thought to myself, "I won't worry, then - maybe she has a date and they ended up out back..." which wouldn't be wise as it was so darned hot out, but who am I to judge? I started to get in my car and the noise seemed to get louder. She uses a cane to get around because she apparently hurt herself in an accident years ago... I couldn't have lived with myself if I had just drove off without making sure she had not fallen in the back yard. So I walked (slowly) over to there. They do not take care of the yard and it is a weed forest. There is one little foot path from my yard to their yard that I believe their dog has worn down, so I walked into the back yard slowly and looked around. No one was sprawled out on the patio and I didn't see anyone dead and/or 'doing it' in the backyard. Suddenly eight crows took off - scolding me loudly as they flew off. I realized I was responding to my first crow 911 call. I laughed all the way back to my car.
I've decided I am a famous rocker, or at least related to several and my beard is almost as good as Sammy's beard...so I have that going for me...

The kids were all home this weekend. The boys came for a home cooked meal. We had spaghetti pie per their request and corn on the cob. My daughter and soninlaw came down to get their engagement pictures taken. We got to babysit the granddog, Toph. Toph is still in a puppy stage and is a hoot. She will play with you and cuddle with you. She was much more relaxed this visit than last (meaning she didn't bark all night this time which is a plus in my book). She tries so hard to make old Jake play with her. Jake does not play often. On occasion he will romp with Lucy next door or Sophie, but to outright PLAY,
no
. Toph tried and tried and finally gave up and left the old coot alone. She would rub up against him and stand with him outside but she knew he was not going to indulge in a good tug of war and really, that is all a girl wants when you think about it...
My daughter and soninlaw brought back cake samples Saturday afternoon. They had gone to check out bakeries for their wedding cake. I am never opposed to cake samples. NEVER. They brought back a lovely chocolate cake and there was some left over on Sunday morning. Guess what I did. Yes. Yes, I did. I ate the rest of it. I ate ALL that was left. The frosting reminded me of my favorite old bakery that used to make the best darned cake on the planet. (Which translates to the fact they had less cake than frosting. Cakes only purpose is to hold up the frosting, in my book.) I can't believe I finished that off. Sigh. I have no self control. I knew the night before that I would wake up and eat it. After sucking down the rest of that cake I took a four hour sugar coma nap on Sunday. Sigh.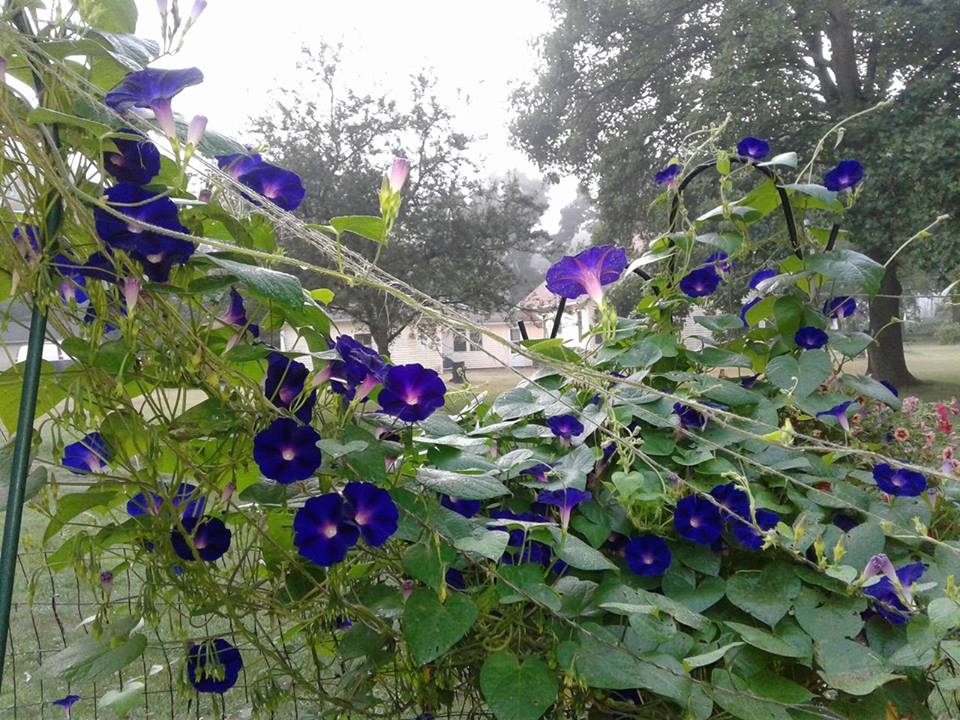 My morning glories are going to town. They have taken over several hanging plant poles and continue to curl around themselves to grow. I think they are later than normal because it was a weird spring/summer so far. I love all plants that self seed and take care of themselves. I am not a gardener by any means. I can manage things that just GROW and all I am required to do is water them now and then and they make me look like I know what I'm doing. Smile.
I bought myself some new pants for work. My current two pairs are so old, I am pretty sure there is no thread left in any seam and it is just a matter of a good windstorm before I'm pants-less at work.. The only kind of pants that I could find in the fat section at the store that would be OK for work were called 'jeggings' - jeans + leggings offspring, I am assuming? They are OK and I've worn them to work and no one screamed or ran away. Yet.
My friend Dawn fell at work and broke her knee in four places. She is currently at home with various types of hardware inside her knee and out. The poor kid. During the initial conversation via text between our little group concerning Dawn and her broken knee, it was suggested that we wrap her in bubble wrap to keep her safe. (Well, that was hindsight on all of our parts, really.) My statement was, "Ladies, we are all at the age where we ALL need to wear bubble wrap jeggings..."
Sigh, getting old sucks.
August 16, 2016 - And it rains....and rains....and rains. I am not going to complain as we needed it SO MUCH, but when you see me float by, throw me a bagel or something. We don't have it nearly as bad as the poor people down south so I will shut up and just prepare to mow like crazy when this all passes us by. If by chance the sun DOES come out today, it will be so humid we will all wish we had gills.
Did you know that if you don't do laundry for a few days, you might run out of underwear? Don't try that at home - I can attest the truth of this statement.
Jake the Dog who HATES to get his paws wet finally had to go potty, so he went out long enough to pee on the grill and he came right back in the house. Rocko the Cat also decided he knew what he wanted which was to go outside despite my warning of torrential rainfall. I spent the next few minutes watching him jump up on to the kitchen window ledge only to slide right off. Very entertaining. Rocko is now in the house preening and he will NOT admit he was wrong. He never does. Sigh. Cats, go figure...
Thursday is "Twin Day" at work. No one will be my twin so I decided I will wear a yellow shirt and take my big old Spongebob stuffed critter to work with me. I will be Mammoth SpongeSandy next to my Spongebob. HR has fun days like that all the time and I like to participate when I can as it breaks up the monotony of being an adult.
August 17, 2016 - My friend and coworker, Judy, decided our whole department will be twins! Yay! Well, quadruplets actually. As a group we decided on attire and add-ons. I went to Party City last night and got us all orange hats and orange bow ties. I am ever so happy they are going to play along!! I also wanted us all to put our hair up in a Pebble style pony tail, but that didn't fly...
Isn't fog technically a ground cloud? If so, we are covered by said ground cloud. The humidity is at 800 percent (which is scientifically impossible, but who am I to judge) and the grass feels like you are walking in a wading pool. Normally on days like this, I will draw pictures on my husband's truck windows as a surprise. (You know, stuff like "POOP!" or odd pictures of a guy picking his nose and such.) This morning while I wading in the grass pool with Jake, I saw my window had a heart on it! I thought, "Oh, gosh! How sweet!" As I approached my car to see the "heart" I realized it was just the trail of water from condensation that gave the illusion of a heart. Sigh. Romance is officially dead. (At least my car loves me.)
I couldn't get to sleep last night for hours and hours. I turned on my "Soundscapes" music channel that would lull even the Tasmanian Devil into a coma state and covered my eyes with a cold washrag in my Lazy Boy and tried to unwind. All I could do was play scenarios of various upcoming events over in my head. I finally concentrated on not concentrating. That is nigh on impossible, actually. I decided to think about a stop sign to focus my brain. That went terribly awry as stop signs led to streets that led to events and etc. Wash, rinse, repeat. Ugh. I don't know how to let things go sometimes, I guess. I think I fell asleep after moving to bed about 2:30 a.m. Pffft.
The rain has left us for now but we are due for more. That onslaught of rain we received caused my fairy garden plants to
double
in size. I kid you not. Apparently rusty well water is no match for Mother Nature's rain from the Gulf. All the plants were HUGE last night. I had to trim them down since they covered up all the wee fairy characters and that defeats the purpose of fairy gardens, now doesn't it? How can plants grow so fast and with such gusto in such a small amount of time? I was very amazed.
I sozzled out my bra last night. (Sozzle was the term my Mom used for hand washing delicates although by the looks of it, I don't think my bra could be classified as a delicate.) I
just
looked up that word on Dictionary.com and it means "drunk; inebriated" so I have been using a term for decades that mean I got my underwear drunk? Sigh. Anyway, I hand washed my bra out last night and it was not quite dry, so it is now proudly blowing in the wind in front of the living room fan. The cups are like sails and I'm sure if I could crank that fan up a few more speeds, I would have lift off. (Fact checking - Webster's says it means, "
To wash by splashing
" but can also mean "inebriated" so Mom, you've been has been vindicated by Websters!)
August 19, 2016 - I have a vacation day today. I think this is the first summer I took days off DURING THE SUMMER just for me. Normally I wait to use up all my vacation time prior to my roll over date in May if even then. I have huge plans for today, like always. Priority, however, is to go have someone play with my hair. BEST RELAXATION FOR ME EVER. Then I could mow. I want to mow. With all the rain we had, the grass is ready for a hair cut. The mowing part is physical labor, however, and it
is
a vacation day after all.... We'll see. Right now the humidity is high and the grass is producing it's own wading pools so I would have to wait for some dry off first. (Good excuse as any that I can come up with at this very minute!)
Two nights ago I went to start my bath water and the handle broke off. I was devastated. Next to having my hair played with, taking a hot bath is one of my most favorite things. (Plus, lately, with my knees giving me grief from the June fall, it serves a purpose as well - hot baths helps the pain tremendously.) I stood there for a moment with the faucet handle in my hand. I could see the plastic stem remaining there could be manipulated with pliers and as God is my witness
I WANTED A HOT BATH
so I tried to get a pair of pliers from the tool box in the bedroom without waking my husband. This did not work. He was up asking me what I was doing. I explained the situation. Like any good man, he got out of bed cussing and whining. I won't type what he said, but it boiled down to "THIS IS WHY WE CAN'T HAVE NICE THINGS BECAUSE YOU ARE SO HARD ON EVERYTHING" sort of rant. Sigh. (He is right - I
am
hard on things. When I do anything, it is normally with the gusto only a fat old woman can do. Example: The last time I saw my friend Steve, I was so damned happy I grabbed the poor man and he said politely, "
YOU ARE CRUSHING ME.... )
I did NOT jerk that faucet handle or use any of my super human force on it, though. I was innocent in this situation. It just broke. If I had not broken the handle, it would have come off in my husband's hands when he went to shower the next morning.
He checked it out and said we'd have to go get new guts for it and managed to get the water running for me. It took him a bit to manipulate the remaining plastic part to get water. I let the bath run for a while as I thought to myself, "Man, if he couldn't move the thing without issues, how am I going to do it?" I used my better judgement and spent the next five minutes trying to turn off the damned water with the pliers. My hands are riddled with boo boos because it was NOT easy. Once I finally got it off I sat in my few inches of water, by golly. Waste not, want not. In this case there was two cups of Epson salts in a small amount of water and I was using it come hell or lack of high water.
We started out at Home Depot last night in search of faucet handle guts. Nothing. We decided to move on to Lowe's. Nothing. "I bought the original at Mernard..." he muttered. "Then we go to Mernards!" I said. I was driving so he HAD to go where I went. Mernards shut down all their local stores near us, so we had to drive a ways to get to one. Guts were found. A new handle was procured. I bought him supper as a thank you gift. (You have to feed your husband - it's state law.) When we got home he worked on the handle contraption and by nine p.m. I was soaking my knees in nice, hot water.
There are a ton of red-winged blackbirds in the trees outside and it tickles me to hear them all chattering away up in the trees. The crow posse is out back walking around like thugs in an alley and the hummingbirds are fighting amongst themselves to jockey for position when there are six, COUNT THEM, six perfectly good feeding holes in the feeders that would accommodate all of them plus dates. Contented Sigh. All is well in Sandy Land.
August 23, 2013 - A mister RJ , long time listener - first time caller, reminded me I had not posted in a while, so here goes. This will be a scary re-cap of the last few days. For those weak to the stomach over injuries and/or female issues, don't read any further. You've been warned.
Friday was a fun day, sort of... I had the BEST hair visit. I was so relaxed. They should have designated drivers for people after such a good relaxation session. I had plans to get some shopping done when I was done with my hair but being all mushy and happy, I just came home. I sat in my chair for a bit, thinking I would just take a nice, long nap. I changed my mind. I got my yard bra on (yes, I have an official old bra for yard work when I don't want to shock the neighbors by the girls dragging on the ground) and went out and did the push mowing. The grass was very tall from the rains. Once that was done I decided to
USE THE NEW JOHN DEERE
and mow! How nice would it be to have the mowing done by the time my husband got home, I thought to myself to justify the use of the new tractor. Our Friday tradition lately has been to have a few beers in the back yard in the evening as we admire nature and our wee kingdom of yard, so it would be even better if the lawn was mowed, right? I put on my radio headphones, tuned in a good station, and started mowing. Twice while I as playing Mario Andretti on the lawn mower I heard songs that made me cry. Here I was driving like a raped ape, bawling like a baby. Sigh. I couldn't figure it out. I was not sad, per say. Very relaxed from the hair session, yes. Sad, not really - so why did I suddenly want a hug and to be held and cuddled? Sigh. Women, go figure.
According to the commercial on TV, it isn't how fast you mow, it's how well you mow fast on a Deere and that thing GOES FAST and MOWS WELL, if I may say so. I was racing through the part of the yard I hate the most so it would be done and out of the way first. As I sped around like the wind, the actual wind picked up and the sky got dark to the south and west. I took a second to come in and check the weather. There were lightening strikes 14 miles to the west. I looked at the radar. I figured I had enough time to get most of the front done, but I was wrong. I mowed until it was pouring rain and then I blew off the Deere that was by then plastered with bales of grass and put her away. She was ridden hard and put away wet, as my Mom used to say.
I came in the house feeling defeated. I showered since I was covered with blobs of wet grass (but grass that was cut
very well
). When my husband got home, I told him about my adventures. I decided to finish the lawn after he was home because by then the sun was out. The grass was mildly wet (um, 'soaked' according to my husband) but I didn't care. If the grass was going to cut into my Miller time, then I would cut it wet or not. Off I went. My husband was NOT happy that the poor mower when I was done. "I can't clean it off until it dries!" He was, however, happy I mowed I think. I did the whole yard. One less thing for him. We had a good time anyway on Friday night, watching two Bad Company concerts. I of course danced. I always dance. I don't dance well, mind you, but I'm not afraid to move it move it. I showed my husband how easy it would be to dance with his daughter on her wedding day. "See, it's just a two step - you can handle that for a few minutes!!" I scolded him in a loving, drunken, nagging way. He agreed. He could do it for a few minutes. It didn't kill him. He didn't die nor spontaneously explode during our short dance. He COULD dance with his only daughter on her wedding day.
Saturday when I woke up and limped out to the bathroom (yeah, remember Sandy, you danced like nobody was watching and your knees were not happy yet couldn't send a message to your Millered up mind...) and took a shower. Then we were off to have breakfast then off to the grocery store. I spent a LOT of money. That was an expensive grocery day. They had bird feeders on sale so I bought a cool one that looks like a gazebo. When I was push mowing on Friday I found that the sandhill cranes had whacked a hole in one of them out front so I needed a replacement.
Some of the stuff that was on sale that I felt the need to "stocked up on" ended up already being in stock when I put groceries away when we got home. (I now have enough olive oil for the entire Eastern United States. If you need olive oil, give me a call...) I also got a new "as seen on T.V." slicer. I was going to make zucchini lasagna that I had seen on the interweb and this cool new slicer would make it much easier. Later in the day my husband cleaned up the mower and I cleaned out the mower shed. For some reason it was wet and covered in grass... My Aunt Jean called from the nursing home and wanted someone to bring her her car keys. "I am up here at the medical center and can't find my keys. Have someone bring my keys, please!" she begged, "I want to go home!" I told her I would call her son and that made her very happy.
Sunday morning at 5:59 a.m. my Aunt Jean called back and left a message. "I don't know who this is!" she said. "I want my tooth brush. Someone threw my tooth brush away and my teeth are gritty. I know you all don't want me, but I want my tooth brush. I know you are all too busy, but I just want to brush my teeth..." Then she exchanged some words with a person who was wailing near her, came back to the phone and said, "Hello? Who am I talking to? Dave? Dan? Bev?" She mumbled something then hung up. The poor dear! I am sort of honored she can remember my phone number, but sad she can't remember who she's calling.
Later in the morning I started a load of laundry then commenced to assembling the zucchini lasagna. The cool new slicer made slicing the zucchini into lasagna noodle sized pieces a breeze (once I got done slicing off the lower part of my right hand. When they say to use "the food guide thingy" in instructions I highly advice
you use the food guide thingy
. Ouch. There was a slight ten minute delay as I applied the tourniquet and bandaged up my hand until I resembled a mummy plus re-washing the 1 Second slicer gizmo...) The veggie lasagna came out very good, really. I think there was too much cheese for my taste, however, but I ate it anyway. After eating it, my stomach felt 'funny' - and angry. "Way too much cheese..." I muttered to myself. While putting the leftovers away I bashed my head on the freezer door handle after bending over to insert the leftovers. Ouch. Then I had a 'warning shot' from my liver. I've not had a spasm like that for a long, long time. "Oh, good. I'm going to pass a stone?" I whined. "Maybe Mr. Liver didn't like all the fat from the cheese?" my husband volunteered as I as doubled over with pain.
I had asked my husband to load the dryer while I was assembling the fake lasagna and when he took off out the first handful of clothes he exclaimed, "What the hell is this?!!" The clothes were coated in a brownish fuzz. As he pulled out the clothes and shook them out a little, dryer sheet after dryer sheet fell out of them. I seems I had knocked off the Bounce box INTO THE WASHER when I loaded it. Sigh. He ended up shaking all the clothes out the back door and I set them to wash again. After supper I vacuumed up all the debris that was all over the laundry room. What a mess. At least we have VERY SOFT CLOTHES. Very. I decided to fill the new bird feeder in the house before taking it out, and ended up spilling most of it on the floor. Sigh. Sunday night I ended up falling asleep at five pm. and sleeping until eight p.m. when my snoring woke myself up and I just went to bed. I was out of it. I was pooped. I was exhausted, and I had done nothing, really. Why was I so tired? And why did I want someone to spoon me in bed and touch my hair?
Monday my car was 'jerking' when I accelerated. It felt like it was missing or had fart bubbles in the gas line. Once it evened out speed wise it was fine. I was sad because I would have to spend money for car repairs and I didn't want to spend money on a car. Ugh. Then Monday night I had a bad case of hemorrhoids and couldn't sleep. "WHY DO I HAVE HEMORRHOIDS?!? WHAT DID I DO TO DESERVE THIS?!?!" I whined. If you have not had them, they tend to hurt like small elves wearing rusty barbed wire shoes with rusty barbed wire string trying to get a barbed wire cat to play the game "Barbed Wire." If you've had them, you will understand why I soaked in a hot tub for a long time. I finally got sleep Tuesday morning before I had to get up for work.
Today wasn't much better. I was so tired at work. I had ovary cramps. (Women will understand this feeling. I've not had a period nor wanted one for a long long time, so I knew it wasn't my body period prepping after all..) I had several bouts of vertigo and almost fell out of my chair. I had several outburst of hot flashes that would have scorched Jiffy Pop until charcoal like. "I hate being a girl!!" I exclaimed loudly in my office. (Mind you, I do enjoy the boobs. I am not dissin' the boob part...) I mustered up my poor self and went up to see my Aunt Jean at the nursing home and take her some puzzle magazines, toothbrushes, pens, and toothpaste. She was happy to see me but it was lunch time and in no way was she going to miss lunch. After they took her down for lunch, I went back to work. I felt better. My car acted pretty good. It was a good afternoon. I decided to call my husband and tell him I would take him to dinner if he would ride in my car and tell me what he thought the issues might be with the 'jerking' stuff.
After coming home from work, I scooped up the husband and as I was going down the road the car was jerking to beat the band. "It's missing..." he said. Then the check engine light came on. "I think she agrees with you!" I said. "Should be take her home? Should I drive it?" He was convinced we'd be fine but I am told him we were going to take her back home and he could drive us to eat. I made an appointment at the Ford dealership before we left again. As I tried to get in his truck, I wonked my head in the same exact spot as the former goose egg from the fridge. I rubbed and rubbed it... ouch ouch ouch. "No blood!" I said the most positive way possible. When I got home and went to the bathroom, I found I was spotting. "WHAT?! I HAVE NOT HAD A PERIOD IN FOREVER AND NOW THIS!?!?" I was very upset but it did explain a lot of about all the previous day's woes.
Needless to say I am calling my OBY-GYN doctor tomorrow and demanding answers. I am also going to ask if he could brush my hair for a while and hug me or cuddle in a porch swing...for some reason I doubt he will.
August 26, 2016 - I forgot to mention that during my several days of space time disruption as mentioned above that when we went to breakfast last Saturday that I had ordered a blueberry pancake and two eggs over easy. When the food came, I proceeded to pepper my eggs and THEN MY PANCAKE. I said out loud in the restaurant "
OH MY, WHAT THE HELL AM I DOING
?" The pancake was still good, mind you, because I am not one to let good syrup go to waste but I did end up sneezing several times during the whole meal. Really? Sigh. Ugh.
I called my OBY-GYN place to schedule a visit with my favorite poke and prod doctor ever but there were no appointments
until November
. See what happens when you are so popular? That doctor has the best sense of humor I've ever found in a doctor so I can see why he's booked for months ahead of time. Sigh. I suppose I will go in to my family doctor and have him do the yearly expedition into parts unknown. He will no doubt schedule me for a sonogram of my lady innards to see if I'm growing cacti or the like. I did manage to schedule my boob smashing exam for September. I have not had one of those done in a while. You got to get it where ya can...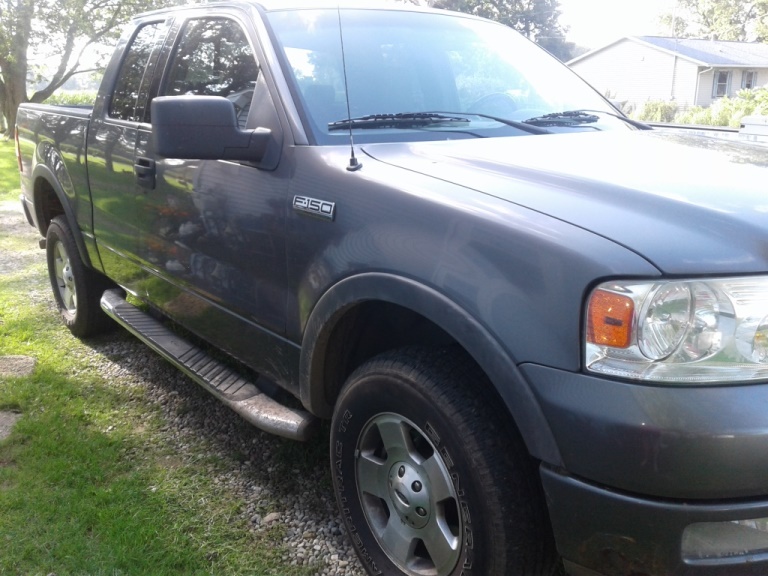 My car is at the Ford dealership getting her coil fixed. She has almost 97,000 miles on her and I've never had a tune up. The missing and jerking motion was from a cracked coil. I am getting a full tune up, boy howdy, new plugs, wires, the whole works. Since my car was not going to be ready for me last night they gave me a loaner. It is a 2004 F150 4x4 off road truck. I swear there are several staircases you must traverse before entering the cab. I do look forward to getting Bertha back today, however. I love that car as much as you can, well - love a car I suppose. She's been a good old girl to me. Oh, they also fixed the heat plate that was loose and would rattle ever so horribly whenever I started her up which made half the county look out their windows wondering what the sound was...no more gawking for y'all.
Tonight my husband claims he is mowing the yard. I, personally, was hoping we'd go back to our normal Friday nights of basking the back yard surveying all that is ours. Maybe he'll get it all done before I get home since as we all know by now, the John Deere makes quick work of our wee two acres. He also was saying that I could mow in tandem with him now that he fixed the TroyBilt. Ooooooo, now we're talking freaky Friday night for fun. (Not?)

September 1, 2016 - Did you know if you search on the word 'support' on the interweb, that you get lots of pictures of bras? It is a fact. I was looking for support memes to post on my friends Facebook as she is going through many horrid rocky times right now. So Vickie, this bra's for you... HUG.
I went to the doctors office yesterday afternoon to have a procedure to rid myself of an ever growing boil in my nether regions. Call it a boil, call it an angry ingrown hair - whatever. All I know is sitting on it was become a pain in the ass (literally) and it had to go. The P.A. did the deed and prescribed an antibiotic cream (because we all know that area of the body is pretty shady and we don't know where it has been) and an oral antibiotic. These pills are the size of a Mini Cooper. She suggested I eat yogurt or I'll have OTHER issues down there eventually. Sigh. When I picked up the pills at my local pharmacy the pharmacist said to be sure to take those things with food. "FOOD!? Does it look like I know how to take anything with food!!" I complained. Laughter was had by all.
I have not been getting much sleep as of late as I've been worrying about a million things. I don't need to worry about
anything
as "it is what it is" and worrying solves nothing, but tell my brain that. Tuesday night was I maybe got two hours of sleep. Last night after supper I took my horse pill of antibiotics and promptly fell asleep in the lazy boy. I slept for an hour and decided to just go to bed. So from 6 p.m. last night until 5:30 this morning I was asleep with a vengeance. My bladder was none too happy with me this morning, let me tell you. It felt good to sleep and I can honestly say I feel quite refreshed this morning and my bladder has forgiven me...
I scheduled a voluntary laser hair zapping session for this morning. I want to de-beard myself before my daughter's wedding. Anyone in their right mind would not put themselves through the painful laser treatments, so I hope she knows how much I love her to attempt to show up at her wedding as a non-yeti. (I can't guarantee anything, however. I am a hairy wench, I am.)
Coming home the other day there was a pool noodle near a corn field along the side of the road. This made me laugh. Like Asian carp, random pool noodles are an ever increasing problem in our country. Hahahaha... Lordy, I'm such a cheap date.
September 4, 2016 - Ouch. My husband and I put up our "garage in a box" yesterday. On the front of the manual it said is was a two person, two hour job. HAHAHAHAHAHAHAHAHA. That would only be true if those two people were taking speed, poppin' steroids, and happened to be 22 year old body builders. Sigh. The nice neighbor Just came over and knocked out the framework like a professional so that was a wonderful thing. God Bless Justin. He is a professional construction man and it showed with his speed and accuracy. After he left, my husband and I managed to do the roof part on our own. I did the ground work after the roof was up as my husband does not bend nor get down and get funky well. I was FILTHY. I loved it. So many nuts and washers and screws, though. I had bought that "garage in a box" for my husband for Father's Day to replace our old one which was near death. I had planned on having my boys help their Dad. This did not happen. I am burned to a crisp on my face and neck. I feel accomplished and happy I can still walk today. Rocko was thrilled there is a new place to claim as a cat kingdom for now. (Since it is empty and it is a dirt floor, Rocko has the largest litter box in the world at this time...) My husband has a 1982 Camero that is housed in the tent, and has been housed in a tent for over a decade. We pushed that thing out and it was covered with cat barf and YEARS of debris. I did manage to wash her off yesterday as well. It is a sad thing to think all we are going to do it put her back in a tent and cover her up again. I wish he would attempt to sell it for its body parts to some Camero enthusiast. By the time we take it out again in another decade it will be gutted from all the mouse condos inside...
I had Friday off as a vacation day. I got a pedicure and had someone play with my hair and came home and mowed. Good Lord. I needed a baler. How could grass grown that much in one week!?!?! I did not get my Friday night "Miller Time" either. My husband didn't want to have a few because he wanted to be perky to put up the tent garage on Saturday. Tonight, however, is a different story. I can have my few beers after we go to get suits for our sons and my husband for my daughter's wedding and get groceries. Viva a long weekend!
Please - no more "garage in a box" ... Please....
September 9, 2016 - Last Friday when I was push mowing, I found a pile of feathers in the old dog pen but no "body" as it were. I was perplexed. I didn't think anything of it and actually forgot about the feathers until I saw a very bald bird eating from the bird feeder out there. (Seems Rocko gave that birdie a hair cut. I hope the poor thing grows back his feather before winter!) He looked awful, this bald birdie. However, he ate from the feeder with confidence and determination, so being bald has not damaged his self worth.
Work has been fun this week because I get to test a new procedure that the company wants to put in place. I love trying to break things. Detective work, I call it. Very entertaining to me. I will be done "breaking things" today and give my report to my boss. There will be a lot of work ahead of them for what they want to do.
We will go tonight to pick up my husband's suit jacket. The place called and left a message. My oldest son's suit is in, as well. He will need to get in there and get his pants marked for hemming. My husband said he'd by me dinner tonight after we pick up his jacket. I am not one to turn down a free dinner, so of course I agreed.
This morning was very foggy and when I stepped outside it felt like tiny little explosions of moist bombs going off on my skin. Actually, kind of cool, really. I suppose fog is what fog is and we should embrace it from time to time. The school buses are active again and the sun rises later and later...tut tut, looks like fall. I secretly am praying for an early frost ONLY to kill off the masses of mosquitoes that have managed to torment us for so long. I don't wish death and destruction on anyone except them at this point in my life. I try to keep it in perspective that even mosquitoes serve a purpose on this Earth, but that is a very hard attitude to keep as of late.
I am using various colors of water beads in centerpieces for my daughter's wedding. I hydrated a sample of all three colors to show her via pictures. Now I am trying to dehydrate them back to their original state. It takes forever. My husband is convinced that the water beads (which you put one teaspoon of tiny itty bitty wee dots to two and a half cups water and they inflate to the size of a marbles that will fill a drinking glass...) are the end product of some failed evil science experiment or a by-product of one, so the people who figured this out said, "Hey, we could make money off this crap!" I am a sucker for colorful translucent things, so of course I bought them!! I also bought "underwater" teal lights to put in the bottom of the jars my daughter got to make the shimmer. I think it will be pretty. Below you can see the life cycle of the beads...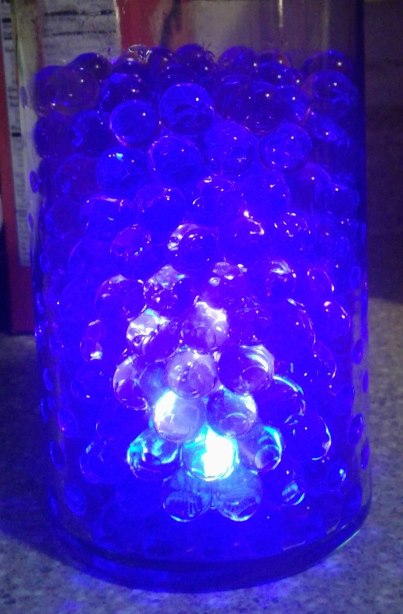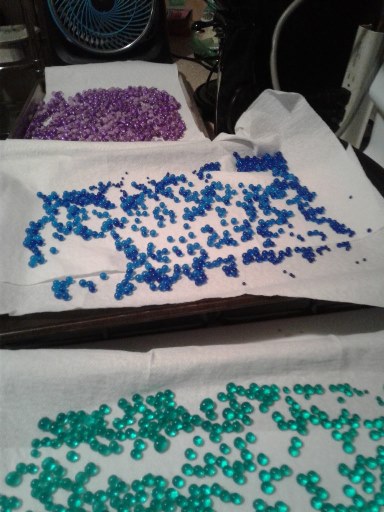 September 13, 2016 - I have a load of wash going - our bedding. I have a favorite set up sheets and will just wash them all the time until I wear them threadbare. I do that... Wear things threadbare a lot.
I managed to bend a blade on the Troybilt mower on Sunday when I was attempting to mow the back half of the yard. My husband was on the new John Deere doing the front. I just pulled over to the shed after making decorative scrapes in the yard before turning off the blades after the impact with the root. My husband let me know how many times I've bent blades when he discovered what I had done. (It was obvious, really. The death of the grass from the bent blade sort of made a smile face in the yard.) My mother in law and sister in law were here and he had to explain all of my lawn errors to them. I am sure it was important that they know I'm Death on Four Wheels in case they see me coming their way with a mower.
After company left and he fixed the blades (for some reason, we had extra blades for the tractor in stock) off I went to finish the back yard. The mosquitoes were not too bad on Sunday, I must admit. It was such a pretty day out and mowing is always a joy, but I was rather down after a few other things came up on Sunday afternoon so I didn't enjoy the decapitation of grass as much as I normally do. I felt a bit better after we came in the house when the yard was done and my husband accidentally knocked over the vase of gladiolus I had on the counter, smashing them to their early demise with gusto. "There, we all have accidents, don't' we? The score is tied..." I muttered as I cleaned up the spray of flowers and water. He stopped taunting me about the mower after that...
I have my mammogram this week, because we all know 'tis the season for boob smashing. There are so many things that must be watched and maintained on a female body. Geez. I should have signed up for the extra warranty coverage on this old body. I couldn't get in to my real OBY-GYN doctor until November, so I scheduled a yearly oil change with my family doctor. I'm sure he's thrilled to see me in that situation. Who wouldn't be? Having casual conversation over an an over-sized Bounty towel that covers your lower half while you are in the supine position with your legs in stirrups is actually quite easy as you get older. (I wonder if that is where the band 'Talking Heads' got their name....one must ponder...)
I have an add on to my blog here - I just came home for lunch. I made myself a turkey and Swiss cheese sandwich. After the first few bites, I realized the thin Swiss cheese I used had little paper separators in between the slices. Needless to say, I think I have had my fiber for the day...
On the way home at the four corners down by work there is a little party store* and car dealerships. I heard yelling of sorts as I approached the four way stop. It was not happy yelling such as, "Oh, I won the lottery and you didn't!" it was more like horrible, hateful yelling between an obvious man and woman. I couldn't tell what they were screaming about at first, just that they were screaming at each other. I soon saw a woman who was crying walking up to the party store* just storming and and saying (loudly) she was calling the cops. The man, who was crossing the road yelled something back. "Yeah, whaddya gonna do about it!" she screeched. His response to her was, "I'll just give them all the drugs in your bag!" and at that point I noticed the purse he was carrying did not match his army jacket. Sigh. I am glad I don't take part is that sort of drama in my life. Humans have choices on how to handle issues. It is so sad that many choose the path of stupid. This behavior can be changed. They just choose not to do so...I really hope she calls the police so they can handle something so stupid and probably let someone else die from something worthy of a police call....sigh....
I posted this on my Facebook this morning, since I've not updated that for a while and didn't want people to think I was dead and such:
"I have been kind of down and blue and hormonal - more than normal as of late (curse you, menopause!) so I've not posted because I don't want to say something I would have to delete later when I came to my senses or depress you all with my whining and lamenting, because as we all know the world is depressing all by itself and needs no assistance from the likes of me. As my Mom used to tell me "If you can't say something nice, don't say nothing at all…"
(Wait, my Mom didn't tell me that! A rabbit told me that – a cartoon rabbit…)
(Plus said rabbit used a double negative. Cripes. Don't rabbits go to school?)
(And how come I can remember what grammatically challenged cartoon rabbit said over 50 years ago when I can't remember where the hell I park half the time?!)"
I just mentioned to my sister my memories of how horrible menopause was for our Mom. My first five years of life were spent wondering why Mom was on the floor in a heap, crying hysterically. I am grateful I can meet this challenge with humor, Pamprin, and beer on Friday nights. Do your worst, body of mine. I will fight back best I know how. Damn the torpedoes and so forth....
September 14, 2016 - Today is my daughter's 29th Birthday. She is busy and probably overwhelmed with planning for her wedding and such. I bet she could use a long nap and a bottle of wine about now. I will spank her when she comes home again because Birthday Spankings are required by state law, or maybe I just have an urge to chase someone down and beat them.
I barely made it home last night from work, I was so exhausted in my mind. My body is angry at me and everything south of my neck was hanging heavy and gravity was pulling me close to the Earth, I swear. I am having internal biological struggles but I'm trying to be very positive about it, right? Not really. I am losing this battle I fear. At least that is what it feels like to me the last two days. When I got home I barely had the gumption to make supper, but I did. We ate, I cleaned up the kitchen, then plopped in my chair for a while. I also took two more Pamprin and in no time I was out like a light. I do remember hearing the phone and the answering machine picked up - it was my Aunt who is in the nursing home. I do not think she knows who she is calling - she is just calling. My phone number is an easy number to remember and I've had it over 35 years, so I am sure it is one she can remember. She was begging (to whoever was listening) for mercy and to bring her what she needed. "I know you don't want me..." she lamented. Being in a nursing home has to suck big time. I don't know what she needs, she did not mention that, except love and support I'm sure - but she was pleading. I did not pick up the phone. She cannot hear you when you do pick up the phone. I left it all for voice mail. Right after that, another call from a strange number that has called before. No message. I believe she is using a cell phone of one of her floor mates at the nursing home. Then another call from of a phishing type... I just got up and went to bed. I slept from 7 p.m. last night until 5:30 this morning. Emotionally I feel ever so much better, but my body still feels very heavy and angry.
My husband handled the whole thing very well. He gushed over my fried rice that I made, claiming it was fantastic. (It was horrible. I hated it. On a scale of 1 to ten with 10 being
OMG, I DIED AND WENT TO HEAVEN THIS IS SO GOOD
my fried rice was at negative 3.) He did the proper thing, though - he lauded it as one of my best. He watched me out of the corner of his eye to be sure he wasn't saying the wrong thing or doing the wrong thing. Poor guy. Women make men walk on glass way too often. I told him any of my actions as of late were not his fault and he is a trooper to put up with me during this crisis. His Birthday is tomorrow. I hope I get my head out of my lower region enough to at least stop and get the poor guy a card. In celebration of his Birthday I am having a mammogram. Nothing says "love" like getting one's boobs smashed. Maybe the tech will let me bring him back a picture...
September 22, 2016 - We inherited my daughter's cat, Rocko, a while back. I can't remember how long ago now. Doesn't matter, really. Rocko is "ours" now and that is all that matters. He is a fussy eater. When he first arrived, he would only eat Fancy Feast things with shrimp in the concoction. That changed. We moved on to other types of food, and after extensive testing he decided that gravy lover's chicken and gravy lover's turkey were his cans of choice. The boy can eat four to six cans a day. However, he recently went through a phase where he turned his nose up to the turkey so on our last grocery outing we only purchased chicken. Wrong. He doesn't like the chicken now. He wants VARIETY, don't 'cha know? Sigh. It has taken us a LONG time to wear down his emotional kitty issues to where he likes us on occasion but we still play the food game...
A week and two days until my daughter's wedding. I am looking forward to the day AFTER her wedding when all things will be 'right' again in the universe. Nothing to worry or fret about. Weddings and any big event always reminds me of Thanksgiving dinner. You take days to prepare everything and then everyone is done eating in 15 minutes...
I am SO looking forward to my physical so I can discuss my female issues with my doctor. Frankly, I'm tired of being female at this point. I would like to convert to a non-denominational gender that does not have to deal with any of the torments of getting older. I am still alive at this point, so I shouldn't complain. The mammogram I had was OK and all the results were good. At least my boobs are carrying on, even if the rest of me feels like crawling under a large rock with a bottle of whiskey and taking a nap.
September 27, 2016 - Today is my oldest son's 36th Birthday. Cripes, it feels like it wasn't that long ago that he was fallin' outta me!
I am very happy the weather is turning to 'fall like' conditions. PLUS, the fall stars are coming back in to view. This pleases me. Orion was high in the southern sky this morning when I was out watching the sky. I like Orion. You can still see the Milky Way and, well. I just love looking at stars. I am ALWAYS amazed by the dark sky views no matter how many times I look up. Bonus prize this morning was a falling star. I also got to see a military jet of some sort. I know it was a super duper jet because of how fast it was moving. Domestic flights do NOT move that fast. I believe the jet was over Detroit before the sound of it was heard by my wee ears.
This Saturday my daughter gets married to her long time boyfriend. I will gain a son although he's always been a son in my eyes. The kids were home over the weekend and she and I did last minute shopping and picking up of craft items for centerpieces. It was a good diversion from what I have been calling "
the part of life where my lower half falls out but in the meantime there are just angry goats with barbed wire fur running around up there
." I will finish up my tasks on my part of the centerpieces this week. We picked up her dress and I HOPE it is nice, cool fall weather on Saturday. That girl has like sixty three layers of dress plus a petticoat and she will just be overheated. I know this - she is my daughter. She comes from a long line of over-heaters and profuse sweaters.
I made the mistake of re-reading the book 'Dune' last week. When you read 'Dune' then you HAVE to read all of the books that came after 'Dune' in the series before Frank Herbert died. Sigh. (Or at least I do!) I am on the last book now. Each book is between 350 to 400 pages or so. The nice thing is...
I CAN READ AGAIN
! My new bionic eye is a godsend. Bless cataract surgery. I can't wait for the left eye to totally crap out so I can have that one done, too!! (I am still amazed on an hourly basis every damned day how I thought my left eye was my GOOD EYE for so long...sigh. It is amazing I didn't run over small children and nuns.)
My most ardent fan, RJ, reminded me yesterday I had not posted here in a while. I am touched. My BFF also reminds me, but her life is kind of topsy turvy right now so I doubt very much she has time to read this blabber. I do find this typing so relaxing, so maybe I should just blabber MORE and worry less, aye? I really have nothing to say that will change the world.
Speaking of which - I notice how there are VERY FEW signs in people's yards so far concerning the upcoming presidential elections. The only signs I've seen are for Trump-Pence, and those are few and far between. Sigh. This is a piss poor year when you think of the selection. We'd be better off if we were invaded by aliens who, after observing us for so long, finally had to put their foot down. Somewhere there is a mother ship full of aliens all saying, 'Seriously???"
There were three button bucks that passed between my dog fence and the neighbors. I caught them out the window. They heard me and froze. The one decided to make a break for it across the road to the corn field. The other two just stood there for the longest time. I stared back at them. They finally decided to go back where they came from and bolted off. Tis the Season for deer. Please be careful on the roads...
Off I go, into the wild blue yonder. Have the best day ever even if you have to fake it.
September 29, 2016 - I just woke up. I think I was having a nightmare of sorts. I rolled out of bed a bit ago and stumbled out into the living room is a panicked daze. First I peed because other wise I have some cleaning up to do, then I stood around wondering why I was having the horrid dream as I was having. The dream was about me trying to find a place to have my youngest son's graduation party. I couldn't find anywhere to go. I search and pleaded and looked. My friend Jeff offered his house for the party. (This is paraphrasing, much more went on of course - details galore.) When it came down to just before the party, I realized I had forgotten to rent chairs and tables for the event. I asked Jeff's wife if we could use her furniture and she said, "No, you just have the first floor space for 24 hours..." When I went out to go to my car to go to attempt to rent chairs at the last minute I noticed the steps up to Jeff's house had a missing piece at the base and I turned to him and said, 'How are people going to be able to get to your house?!?!?" He threw me an old cardboard box to use as a 'step' and that is when my bladder slapped me to remind me there were REAL issues at hand and to WAKE UP....Sigh.
I know why I had that dream. My daughter's wedding is Saturday. We do have a place for it and pretty much everything is finalized, plan wise. However, the weather has thrown a curve ball. It will rain. Thunderstorm, even? I know this is weighing heavy on my daughter's heart. There are tents to be under if it is raining. I am not sure where they will stand to get married if it is raining, but it doesn't matter, really. They have been a couple for eleven years now and a little rain is no challenge to them. I am sure she is having her own form of nightmares at this very moment. Human events can be planned and calculated, but Mother Nature always has the last say in all matters. Suits can be dry cleaned and make up can be re-applied. All will be well....bring an umbrella.
Speaking of Mother Nature... we are having a geomagnetic storm at the moment provide by the Sun, and of course it is cloudy and I have no chance of seeing any aurora activity. We should have been able to see it clear down here last night, but no. When I went to bed, I saw small specks of light from time to time as I attempted to fall asleep. I consoled myself by thinking they were cosmic rays from the aurora activity hitting my eye balls. That made me feel better.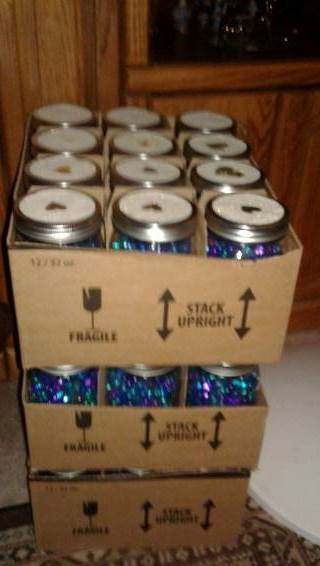 I hydrated up nine gallons of water beads for some of the centerpieces. Water beads are made out of sodium polyacrylate which my husband claims is a by-product of some evil experiment gone wrong and joked they were probably radioactive. They are quite pretty when hydrated - like translucent marbles, but I've seen enough to last me a life time. No....More...Waterbeads..... If you drop a hydrated one on the floor, it bounces around the house like a superball and if you step on a hydrated one it squishes like jelly all over the place. If I were five again, these would have been a riot to use in playtime. I am nigh on 56 years old and they were still fun in the beginning, however about gallon #6 they lost their appeal.

October 3, 2016 - Ahhhh, October already. I will start with today and recount my way back to the wedding festivities... First I would like to mention that the red winged black birds are herding by the hundreds and the noise they are making outside right now makes me think someone poured water on trees made of pop rocks. They are SO LOUD and there are SO MANY. I am pleased.
Today I have a raging sinus infection. My whole face aches like I was punched. My upper teeth have all purchased tickets to the ankles so they can leave the horrid pain that inflicts them. My nose drips like a leaky faucet and the snot to brain matter ratio is leaning to the dark side of snot. This is all OK since I have this week off from work to babysit Toph the puppy while the kids are on honeymoon. I am so happy this all waited to hit until after the wedding. I knew I was getting sick prior to the wedding but it is amazing what you can will your body to think and do if only you try. My brain and my body agreed I was the picture of health on Friday night going forward, but the charade ended with a THUD on Sunday morning. When I woke up I couldn't even swallow. My throat was so swollen I thought I would have to do a personal tracheotomy to breath. I was quite scared for a bit on Sunday morning. After hot tea and a salt water gargle and aspirin, I was able to calm down and not die and stuff. Viva Vicks VapoRub, too!
The wedding was MARVELOUS. I cannot express the sheer joy of it. I was taking the doom and gloom stance on the whole thing prior due to my menopausal retardation that is going on lately. Friday night's rehearsal was a hoot. My son in law's family sponsored it and it was fantastic. We worked out two scenarios for the ceremony - one if it was raining and they had to do it near or in the tent, and one if it was nice out. It had rained and rained leading up to the event - we expected it to rain...
Saturday we got there early and the groomsmen and bridesmaids all came and we set up the tent and tables and the arch they would be wed under. It looked pretty cool. My son in law's brother did the sound set up and lighting. They had everything set for launch. It was coming together well. My boys went and got the cakes and cupcakes and let me have the honor of ironing their white shirts. Smile. The whole wedding "team" did such a fantastic job. I was quite impressed with my soon to be new son who seemed to know exactly what to do and when during set up. I came home and my husband and I got ready. He looked nice in his suit, but as he sat and waited for us to leave for the wedding, you could have compared him to a cat wrapped in barbed wire bubble wrap. He is not a "suit" kind of guy. He hated it but he did it for his "little girl" as he noted every five seconds. "I'm doing this for her....I'm doing this for her....." He took a change of clothes with him because HE WAS CHANGING the minutes pictures were over. He looked much more comfortable after he changed, that his for sure!
Amazingly and just as our dear friend RJ said, it cleared up and the sun shone on their wedding ceremony. (It started raining AFTER it was over, but the ceremony was just beautiful.) I had not even thought of crying up until the point after my son in law walked me down the aisle to my seat and his parents were seated and all - it was when the music kicked in for the wedding party to enter that I lost it. I blame the music, of course. All the bridesmaids and groomsmen looked so pretty/handsome. I cried when my daughter came down the aisle. I cried at some of the things Jacob said. Their friend Jacob was officiating and he did a fine job. He was funny, yet good to point out what "love" is and all - it was going so well. Then when the kids exchanged rings, they read their vows to each other. Oh cripes - that made me sob. My daughter did so well (she is a kick ass writer to begin with...) and my son in law also did a fantastic job. He choked up reading his vows to my daughter, which made my husband cry and he grabbed my (now soaked) hanky to wipe his eyes. (I am sure he will be getting my cold any day now....)
The reception was a HOOT and half. My son in law did all the play lists for everything and the music was great and we all danced and danced and had a riot. (My feet and knees were so sore and my daughter told me that she soaked in the tub on her wedding night since her feet hurt from dancing as well.) It was so good to see friends and family and meet new family and all in all I would brand this wedding and reception as a success. I am sure my screaming to be heard over the music did not help my throat come Sunday morning, but it was worth it. It was a wonderful time.
Now I have a date with some aspirin and a hot rag for my face and a warm bed to cuddle me ...we have some snottin' to do....
October 6, 2016 - Poor Toph. She was one tired puppy last night. I was trying to read and she crawled up in my lap. (She is a 50 lb. "puppy" and fitting in a lap is not as easy at it appears in the movies.) I was moving her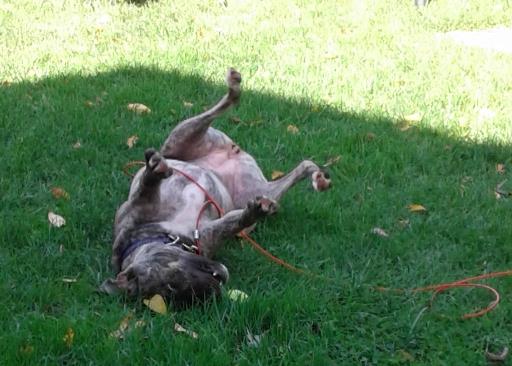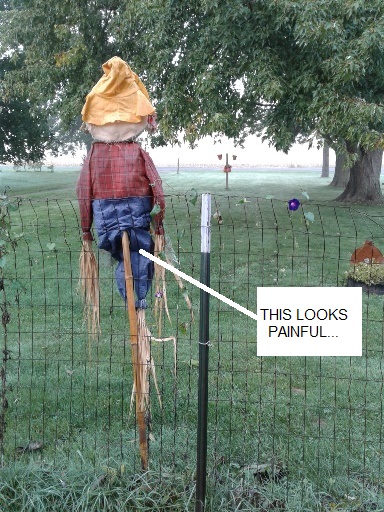 mouth and her paws like a puppet to entertain my husband. During the whole "puppet show" she didn't even open her eyes - she was OUT OF IT and sleeping so hard. She had been outside with me all day while I took down the fairy gardens and summer decorations from the yard. She played like a mad fool with the hose when I hosed out the containers. She had a riot. She jumped up on the picnic table and acted as overseer to my chores. She pranced around like the puppy she is and attacked the water coming out of the hose. It was so fun to watch her. She was NOT scared of the lawn mower, either. She acted as if she had been raised with lawn mowers. (I hooked up the wagon to the mower to haul stuff up and in...) When my husband got home from work, he mowed the front half of the yard before the predicted rain hit. He JUST finished when it poured. It rained and rained and rained. Toph was happy to watch the rain out the window, barking at the pounding sound on the roof when it really kicked in.
I put up my fall items when I was done with the fairy garden take down job. Toph and Jake both barked for 10 minutes at the scarecrow people. (You know, the ones you can buy that have a bamboo post up their hind ends that you can stick in the ground.) She was not scared of the scarecrow people, she just was alerting to the fact a human shaped 'thing' was in the fence in the dog pen. She went right up to it and sniffed it and finally stopped barking. I am sure she decided that it was a harmless anally impaled scarecrow and never gave it another look.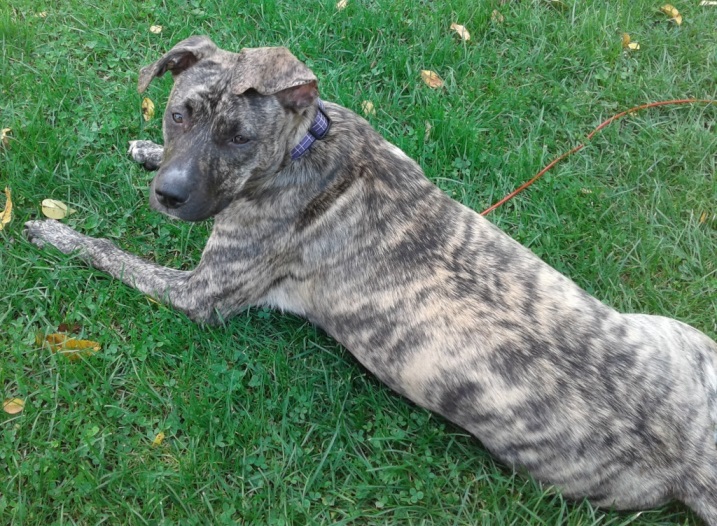 Toph has been like having a wee child around. She is amazed by the flocks of birds and airplanes overhead....she stalks the stink bugs and anything that flies by. Squirrels capture her rapt attention... She plays with abandon and frolics with the cat toys and plays soccer with small balls. She is ever so happy to see you even if you walk out the room to go to the bathroom. She watches images on the T.V. and cocks her head. (Especially dog food commercials.) She sleeps with us in bed. Her and Jake have come to a civil agreement about this sleeping arrangement and it has all worked out this week. Jake even lets her chew his face from time to time without doing the old curmudgeon man "you kids get off my lawn" routine. If a dog is this much fun, I can't wait for grand babies!!
I dumped 24 quarts of water beads into a garbage bag in the Herby Curby. They were heavy! I was peeking over the couch this morning through the front window like a Kilroy character as the garbage truck came. The Herby Curby didn't explode as I anticipated when the garbage truck grabbed it with the claw and flipped it in the truck! Yay! It looked like it all went in well. Only 12 more quarts to go! (If you drive by a landfill and see a bubbling ooze of purple, blue, and teal coming out, that may be my fault...)
I was quite sore last night from all the running around the yard that I did. I soaked in a hot tub. My daughter gave me Lush bath bombs for my "Mom" present for the wedding so I took advantage of one of them. It has been a nice relaxing vacation (if you don't count the snot and sneezing from the cold I have) and I've enjoyed it quite a bit.
October 13, 2016 - This going back to work stuff is not as fun as I anticipated! I am thankful, however, that I have a job but I could think of a million reasons right now why I have to stay home today and take a nap...
My cold hangs on, so I believe I will call the doctor today. The evil within is stuck in my sinus cavities and my chest. Sigh. I kind of feel OK, but then again, I sense there is more than a cold going on. I will let the trained professionals judge this for themselves. Until then, I highly suggest you buy stock in the Kleenex company...
This morning I had a good laugh (to myself, mind you - Jake doesn't get this sort of humor) concerning humans. I believe The Powers That Be enjoy the antics of humans. You know, how some things just don't get old for us - like someone slipping on a banana peel or the like - some things must bring Them much joy. Example: Humans wandering around parking lots looking for their car. A Classic. In my case this morning, it was my reading glasses... I have many scattered throughout the house "in case" and this morning when I was done running around cleaning up the house and loading dirty dishes in the dishwasher and sat down to work at my desk, I couldn't find my glasses. (Even though I have that new bionic eye, I still need reading glasses.) I got ANOTHER pair out of my "spare" box and put them on and when I was doing some work I just happened to notice that I had a pair on my head, a pair hanging from my shirt in my cleavage, and of course the pair I was wearing. This made me stop and laugh with gusto. Really? I have enough reading glasses to supply a small third world nation and I STILL can't remember what I do with them. Ah, humans. Go figure.
This morning when the garbage company picks up, the last of the dreaded water beads will be on their way to a nearby landfill. I will apologize to my grand children once they start appearing. The kids went to Florida on their honeymoon and fortunately they were on the west side of the state so they did not have to deal with hurricane Matthew. They had a good time and I bet they are feeling the same way I'm feeling about having to go back to work this week after time off.
October 16,2016 -
I woke up to thunder and lightening this a.m. I suppose if something was going to wake you up, a good fall storm is just as good as anything. Beats getting a throat cleaning by your dog because you are lying on your back, snoring loudly, and the dog feels compelled to save your life with stinky French kisses...
I am very emotional today – full of the joy of life and all. This means only one thing. I am in a cycle again of sorts. Only two more weeks before my physical, and boy howdy and I going to go off on my doctor. FIX IT I will demand. "Fix it or no one gets out alive!!" There will no doubt be S.W.A.T. Teams called in...
I like being happy, mind you. Normally I am happy. I just feel very alive lately. I will miss being alive when the time comes, but hey – while I am alive, it is grand. I am also happy I am alive during this particular period in Earth's time. I couldn't be luckier. I am blessed to be happy most times. Oh, I get mad, yes. I had a decade or so in my life where I was having the biggest pity party EVER and felt SO SORRY for myself. I am glad that period in my life passed rather quickly. Happiness is only attainable when you finally accept your lot in life and live your life the way you know is best for you.
I am not happy with this year's presidential candidates, but in reality, a President doesn't run the country anyway. Someone group behind a curtain runs the country. It doesn't matter WHO we elect, to be honest. It will all just 'be' and we will have to either deal with it, or rise up and fight it. Humans are odd damned critters. I have given up trying to figure us all out...we often act no different than hummingbirds or squirrels and the like. Carbon based life forms have ISSUES. I've come to accept that.
The whole gist of this babbling is to state that I have had a good damned life. I was lucky to plop out awesome kids. I have a husband who has lived through ME...and has survived... mostly. I have awesome neighbors and awesome friends and family. Truly I am blessed. This may be menopause talking of course, but I do feel this way EVERY DAY. If I die tomorrow, which anyone of us could, I would die knowing I loved my life and the things and people and critters in it.
I ended up getting in to the doctor's office on Thursday morning, and glad I did! I ended up having bronchitis and a sinus infection. There was so much snot running down the back of my throat, I am convinced not even Moses could have parted it... I am on antibiotics and after the first dose, I began to feel better. I was so shocked! I didn't even KNOW I felt that bad!! I would tell that to anyone at work on Friday that would listen. "I didn't know I felt that bad!!" They humor me well by saying things like, "Well, that is good, Sandy!" or "Get away from me, Sandy, if you are sick!" and so forth. Hahahaha. I amaze myself sometimes. Day four of antibiotics have made it so my face no longer hurts and I am getting up tons of goo from my lungs now. Viva Medicine!
I went to see my Aunt Jean to take her flowers for her 89th Birthday. She did not know me right off the bat, but she knew she knew me. She played along with me, searching my face for clues and such. I showed her pictures of my Daughter's wedding day, and she would ask "who is that?" and "who do they belong to"... Still she couldn't find my name. It was only when she opened up her Birthday card that the lights came on and she almost cried. "You are so good to me!" We hugged. She found the cells in her brain I was stored in! It almost made me cry.
She had her hair done – a permanent of sorts, and she looked pretty. She has lost so much weight, her clothes hang on her. She complained she had to get clothes from the "goodwill pile" because nothing was fitting her anymore. I told her she looked good for an old heifer. She laughed. It was a good visit. She did not see so angry this time. I hope she is finding happier places in her brain in which to draw memories. She thinks she is in a hospital, and I don't try to change her mind on that. It makes her happier she's in a hospital than think she is in a nursing home. If that makes her happy, GOOD.
Yesterday my husband was gone all day to his brother's house up north, so I decided I would lounge around in my jammies doing NOTHING (since I had not slept more than two hours on Friday night). However, I couldn't sleep after he left. I cleaned the living room carpet instead. I cannot believe that even though you sweep every day, that SO MUCH SLUDGE remains in your carpet fibers! I dumped out tons of ooze that would have made a lovely mud wrestling pit for those who like that sort of thing. I moved the couch and cleaned back there. I found tons of puppy toys from when Toph was with us. I bound up the many wires that run along the wall behind the couch with zip ties. I cleaned out dead bugs from light fixtures. I did four loads of laundry (did all my throw rugs and some curtains, too, and bedding...). I made the best been and noodles of my life Saturday, too. I pulled up the crappy carpet in the laundry room and hauled it to the burn pit. I was very productive on Saturday, but I had no intention of being that way. A bonus. A surprise. A sore back and feet!! Smile.
I did conclude that for every living human on this Earth, that there are at least 62,000 spider webs that need cleaning up on a regular basis. Sigh. I am sure this morning in the spider newspapers all over my house the headline reads, "Hurricane Swiffer kills hundreds!!"
Today I do no know what will happen. Maybe today will be my epic nap? Maybe today I will finish up cleaning out light fixtures, who knows. I have not goal. I have not plans. I like that. Sometimes it is just nice to "be"... (oh, to "be" and drink coffee, I should have said.)

Oh, and P.S. - the antibiotics I am on give me horrendously odd dreams. Sigh. I can't even begin to tell you the oddness of the dreams, so trust me on this. They should list this on the side effect panel...
October 23, 2016 - I do so LOVE the location where I live. Close to villages and small cities but smack dab in the middle of nature. I love just standing outside in the early morning listening to Mother Nature and all the feathery and furry creatures that live nearby. This morning, however, there is obviously several hunters of geese in the nearby swamp/wooded area and their skills on the goose call device need WAY more refining. I'm no goose, but I'm pretty sure if I heard that cacophony of noise I would fly in the opposite direction of said noise flashing my high beams at any other inbound geese. At least the hunters are trying, I will give them that. They just need a bit more practice so they don't sound like someone gave LSD and excessive amount of coffee to all the patients at the local goose hospice.

There was a squirrel this morning that was very entertaining as well. A teenager of sorts, I suppose. He/She was scrambling up branches at the highest level of one tree, then flinging themselves to the top of the next tree and scrambling down only to repeat those action and end up in the NEXT tree. Fun to watch. You could see the progress of this squirrel's game in the movement of the leaves on the trees. Quite fun to watch. I wish I could throw myself from location to location like that. I am jealous of a squirrel. I need a life...

Yesterday was a fun day. It started at the local diner. I told my husband he had to take me for pumpkin pancakes and he obliged. I ordered two pieces of wheat toast, two eggs over easy,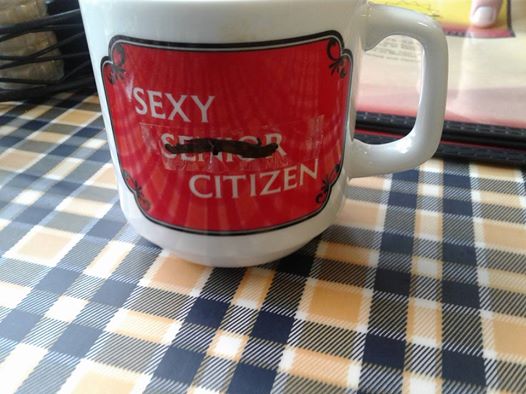 tater tots, and a pumpkin pancake. When they came around with my coffee cup (they get their cups from garage sales and such, so each cup is unique) I had to laugh. (Note Picture.) When they came to check on us and ask how the food was, I was stabbing at a crispy tater tot and it I managed to hit it an an angle where it flew off my plate and ricocheted around for a while, ending up on the floor. "Tot down!" I cried. I picked it up and decided, since I was being watched, I would not apply the five second rule. A bit later, I was enjoying my eggs but noticed I only had one piece of toast. You can't properly soak up all that yolk with one piece of toast. I said to my husband, "They only brought me one piece of toast? That is not like them...." After we were done with breakfast and were chatting with the waiter, I noticed under the table there was the other piece of toast. How in the hell did it get under there? They offered to bring me a new piece but I kindly declined. Seriously, when did that toast duck, tuck, and roll off the table? Sigh. It provided much laughter for us the rest of the morning. Afterward breakfast we went to Mernards to spend our Mernards rebate check and while my husband looked at different types of gasket grease and such, I enjoyed the Halloween section. I got a few solar pumpkin lights for the yard. They also had all of their Christmas stuff out, but I couldn't not bring myself to go and look at that since it just didn't see right.

Hallmark has a wax melt that has a scent that just silences me. It is called Autumn Woods. I can't even begin to explain the scent. I love it, mind you... The only word that really comes to mind when when smell it is "cuddle"... I think it is the smell all humans should smell when you are close to someone, cuddling. When I smell it, I am just forced to quiet. Odd. Very rarely does anything make me quiet! Hahahaha.

October 24, 2016 - My clumsy luck continued into Sunday. I had plans to make scalloped potatoes for Sunday dinner and I did, mind you, but it was not uneventful to say the least...
A while ago I got myself a "One Second Slicer" and that thing lives up to its name. I love it. Very good for salsa and such. Very good at slicing, too. I had used it once before for slicing, but I did not use the handy hand protector you hold the food with and I had cut myself a little back then. However, THIS time I was going to be safe and use the handy protector and all would be well.

I was just amazed at how thin you could cut the potatoes! I yelled at my husband, "THIS THING ROCKS!" and he yelled back, "Just be careful, you know what happened LAST time!!" I was not worried. I was slicing potatoes like there was no tomorrow. There was a knock at the door and my husband answered it and was talking to some person out on the campaign trail and I was eavesdropping when I did it - I took off the end of my right hand index finger. Ouch. Blood was everywhere. I took the whole device to the sink and cleaned up all the various body parts stuck in the blade. I got a wash rag and wrapped it tightly around my finder and was holding it tightly to stop the bleeding. When my husband was done at the door, I called him in to the kitchen. He laughed when I told him what I did, but stopped laughing when he saw the blood running down my hand. "You have to finish this!' I commanded. "I really want scalloped taters for supper!" He finished the slicing and I layered the dish with my left hand. I had already sliced up the onions and cheese and such prior to my suicide attempt, so it was easy to finish it up. He plopped it in the oven for me and then I had him try to help me bandage my finger. It was not working. Too much was gone to stop the bleeding on our own, so I told him I was driving up to an immediate care clinic for assistance. I walked in and said, "I have a boo boo.."
The nurse was kind enough to fill out my paper work for me while I was bleeding all over. I told her my story of the slicer and taters. We joked about the added "ham" and all. The nurse practitioner on duty came in and used a clotting agent on the end of my finger. I had asked him to cauterize it and he laughed and said "Um, no!" but the hemostatic he was putting on the wound FELT like it was being cauterized. "Ouch, dude!" I said. "Yeah, this will hurt a bit..." he mumbled. After the bleeding was halted, the nurse dressed it and gave me a tetanus shot since I couldn't remember when my last one was. (I highly recommend you carry a card in your wallet with the date of your last tetanus shot on it in case you get a sudden urge for scalloped potatoes in the future.) All in all it was in and out, really. I got a sucker for being in such good spirits. There was no flapping of skin to stitch since the end was just gone so my layers of callouses on the index finger are gone and after I heal up I am sure the end of my finger, shorter as it will be, will need some toughening up.
I came home in time to eat some of the best scalloped potatoes I ever almost made. Smile. There are enough left for supper tonight, too. I look forward to not having to cook or sever off another body part to make supper. I am also amazed at the fact that your fingers automatically adjust to compensate for their fallen comrade. The middle finger slides in and does index finger duties like he was just WAITING for the chance to prove himself. I am amazed. I do have home row issues when typing from time to time, however, with punctuation and such. Other than that, kudos to the rest of my surviving fingers.
October 31, 2016 - BOO! BOO, I TELL YOU! BOO!
It was a fun weekend. The neighbor had a Halloween party on Saturday night. Since we are old we petered out early, but it was still fun. Yesterday I can honestly say I did very little. Hahahaa. I had cooked beef for beef and noodles on Saturday. When I got them out of the fridge to finish them up yesterday afternoon, I smashed my bad finger into the side of the counter and down the bowl of luscious beef went. SMASH. Beef and glass EVERYWHERE. I was so mad. SO SO MAD. I wanted beef and noodles. Instead we had a can of soup after I had to spend a half hour cleaning up the glass. I have never seen glass scatter like that bowl did. Sigh.
Someone or something is eating my Indian corn that I have outside for decorations. I brought this fact up at the party, and Ron said, "I'm sorry...." which made me laugh. I am sure Ron isn't eating it and it is no doubt a rogue squirrel, but still, I had a good belly laugh.
Happy Halloween and end of OCTOBER. Time passes too quickly it seems. Cripes, tonight I will have to put away my Halloween decorations and get out my turkeys. I am a firm believer that Thanksgiving doesn't get enough air play so I will drag out my turkeys and plaster them all over my living room. No going direct to Christmas in this house!!

November 3, 2016 - Do you feel it? That tight skinned feeling of pulling Gs? That is time passing by at a high rate of speed. November already!! Ugh.
I am sure my daughter and my son in law are thrilled that the Cubs won last night. Who isn't? I am sure Chicago is still loud and boisterous at this moment, hours after the grand event. Good for the Cubs. We all need something to celebrate. I always celebrate when I wake up breathing.
My finger is healing up well. When I am home, I let her roam free and naked. The end of my finger feels almost plastic and hard. I bump her from time to time and the pain brings me to tears. There must be an effort on the part of my body to activate millions of new nerve endings to replace the ones I severed off? All I know is, OUCH. I wonder how long it will be before I forget this whole "scalped" potato incident and use that damned slicer again? Oh, I'll use it again...hopefully I will have more sense this time! She still gets in the way now, though. Index finger is trying to reclaim her throne and middle finger is trying to retain his dominance. It ain't pretty sometimes. Fingers can have minds of their own.
The leaves are dropping from the trees at an alarming rate. I believe Saturday we will do our part for global warming and try to pick some up and burn them. We try to wait until the prevailing wind is going away from all our neighbors, so I hope for a good wind out of the west going east. Nothing stinks worse than a three day old smoldering pile of leaves.
Tonight I will begin my fast to have blood work tomorrow morning. Last year my sugar was a tad high and I fear this time it will be, too. I tend to swing towards the side of carbs and sugars, as you can tell by my girlish figure. This week I've tried to be good on the sugar so they didn't send an ambulance after me once they saw the blood work results. I failed last night in a big way. I had a lovely dinner with my girlfriends. We had SO much fun. I drank two beers and had a decadent chocolate cake for dessert. Sigh. (They will have to put me in one of those Hannibal Lector masks to keep me from sugars.) My cousin Dave is a good boy and has tried all his life to watch what he eats. He exercises while here I sit mentally cheering him on from the sidelines within arms reach of the concession stand. He
should
keep himself healthy so he can carry my ashes to the house after my funeral. Hahaha. Smile. There will be a pile and a half...
My cat snores. Just sayin'.... Should have named him Weezy.
November 13, 2016 - It has been a productive weekend. I am sad to see it end.
Saturday I went for a pedicure and then had the hair place braid my hair. (Just so someone would play with my hair. I deserve that from time to time. I don't ask much...) When I got home, my husband vacuumed up the leaves and I played pyromaniac and burned them. The pile is still smoking out back. I think we will have one more leaf pick up before we call it good for the season. I had fun using the leaf blower as a method to stoke up the fire. I had such fun causing blazes in the pile of leaves.
Today I was lazy until late morning when I decided to get the slow cooker going on pork chops for supper. While my chops were sitting in brine, I cut up an onion, an apple, and potatoes. I put it all in the slow cooker with chicken broth and a can of cream of mushroom soup and turned her on low.
I stripped the bed and threw the sheets in the washer. Then I decided to sweep under my bed. It is a scary, scary place under there. I hit the old wooden drawer that serves to hold tons of photos sorted out in smaller boxes by type while I was sweeping down there, so I decided to sort through and look for a particular picture I had wanted to share with my cousins. Wait, wasn't I sweeping (I reminded myself) so I put the photos away and went back to sweeping in the bedroom. I noticed (while still on the floor) that the window was boogered up by Jake the slobbery dog, so after I got off the floor I took down the curtains so I could wash that window. The curtains were in dire need of washing. By then the sheets were in the dryer, so I took down the bedroom curtains and threw them in the washer. If I was going to do a load of curtains, then I might as well wash the kitchen curtains, right? Well, apparently. While the curtains agitated, I washed the bedroom windows and the kitchen windows. Then I swept all the spiderwebs and dust from around the windows. Then I noticed dust on door frames, and had to sweep that down. I eventually made it over to my side of the bed to sweep under there which led to dusting the book case and ... needless to say I was an ADD cleaner spaz fit today. I did stop by the slow cooker once and looked in the lid. The pork chops looked like they had not even stared cooking yet, so I put a towel over the slow cooker to hold in the heat better, and went off to wash our comforter.
My husband got home from Mernards and saw the slow cooker. "What are we having?" he said. "Pork chops and taters, precious!" I said proudly. What he should have said was, "WHY DON'T I SMELL WHAT IS IN THE CROCK POT?" That might have clued me in...
At 1:50 I checked the slow cooker again. The pork chops were still sitting there, uncooked. I put my hands on the side of the slow cooker. Cold as ice.I had forgotten to plug the poor thing in. I plugged it in and turned it on high and confessed to my husband. "I wondered why I wasn't smelling anything yet!" he said. Ugh. I felt like the ditz of the century. I looked on line and pork chops will cook just fine in four hours on high in a crock pot. Dinner would be around six p.m. I told my husband to eat something...we had a bit of a wait until supper. Duh.
I meandered over to my neighbors to help Sue with her new printer. There wasn't much to do, really. It was all neatly done by HP and the printer. Very interesting process. The printer knew who it was and the computer knew the printer and they shook hands and I didn't even have to be there. We did test printing and all worked well. Then we made sure Ron could print from his tablet. I confessed to them my 'duh' moment and Sue shared her 'duh' moment. They have been missing the extra set of keys to her car for a year now, and Ron assumed he lost them. Last night they went to dinner and she wore a coat she normally does not wear and low and behold, what did she find in her coat pocket? We all have 'duh' moments. It did comfort me a bit. Ron was nice to send home a bowl of chili he made to tide my husband over until pork chops were ready. Men have to stick together when their women lose their minds.
The moon was just stunning tonight. I appreciate that thing. I am sure without the moon there would have been no life on Earth. I saw on Facebook many awesome pictures of the moon that people have taken tonight. I may get sick of media overkill on some things, but I don't get sick of seeing things related to space.I would steal one of those awesome pictures and post it here, but that would not be nice. (Oh, and Ron, I lied. The last time the moon was this close was almost 70 years ago and the next 'super moon' will be in November of 2034. So we hopefully will be alive to see it. Don't ever listen to anything I say on ditz days!)
I suppose I should go to bed and sleep this stupid off. Wish me luck!
November 16, 2016 - Today is the first day I can say I've seen it foggy ALL DAY. Our local school district shut down for the day. (We are in a low lying area.) I am 56 and have NEVER seen fog last for so long. Right now it is 'foggy' too, but I'm not sure if it is real 'fog' or smoke from people burning leaves. There is a first time for all things.
A coworker explained to me how he does his turkey. He cooks it a day or two ahead of Thanksgiving and carves it, then heats it up in a slow cooker on the Turkey Day. I am doing that this year. I HATE with a passion the whole ordeal of attempting to time the turkey and then get all your side dishes planned/timed as well. I've been fortunate over the years to have most Thanksgiving meals come out on time and all together, but IT IS A ROYAL PAIN. I am not that fond of poultry carcass hanging around after dinner, either. I am cooking my bird (his name is 'Frank' again this year) on Wednesday, my husband will carve it, and I'm reheating it and ll its juices on Thanksgiving day. I am already feeling less stress.
WHY DIDN'T I THINK OF THIS PRIOR TO HEARING ABOUT THIS FROM A COWORKER?
Unless your family
requires
to see the execution of the meat off the bones of the turkey, then there is no big deal to do turkey this way. The gentleman claims it is moist as moist can be by reheating it its own juices. I will let you all know. If this works out, I am going to kick myself for every year
I could have done this
!!
My daughter and son-in-law can spend Thanksgiving day with us this year! Hurrah! Normally they go to his family's Thanksgiving, but they are not having theirs until Friday. By Friday I won't care what they do since I'll most likely be in a turkey induced coma lodged hopelessly in my lazy boy.
My scalloped potato finger is healing pretty well. I have a feeling it will always be shorter than it was, but at least it is healing. It still hurts just horrid if I thunk it just right, but there is a nice callous enveloping the area of the carnage. My middle finger is still fighting to keep it's title of INDEX finger, but slowly I can use my index finger again for typing and doing chores and such. It will be a long, long time before I could possible use it for picking my nose, however. Smile.
I've been having "bad" dreams that wake me up out of a dead sleep as of late. (OK - I'm lying, I have to pee, but when I wake up to pee lately I remember bad/odd dreams for a bit, so I know I'm having them.) What causes such dreams is beyond me. What is my poor brain trying to work out? I have a lot of respect for brains so I suppose it can dream anything it damn well wants to, but I sometimes wonder if I'm missing a bigger 'lesson' in the weirder dreams... I hope I'm alive when science figure out exactly why humans dream. I would also love to keep my dreams on disc so I could replay them to see what details I'm missing - but then again, maybe NOT. I am sure dreams are meant solely for the purpose of cleaning up excess data bits in the brain and we are not supposed to over analyze them lest we go insane. (Or, maybe I'm already there...)
November 18, 2016 - The other day I was cleaning out my ear wax with a Q-Tip and it felt marvelous. Sometimes I believe the closest thing you can get to an orgasm is a successful ear cleaning. I know it is well known and documented that nothing bigger that a small battle ship should be put in your ear, but COME ON - sometimes you have to get in there and dig out something. I wonder why that feels so good? I remember when my youngest had ear trouble one weekend and we took him to immediate care and the doctor looked in his ear and said it was compacted with wax so he got a special wire loopy thing to dig it out. My poor boy sat there, head cocked with his eyes rolled back and drool coming out of his mouth through the whole process.
My husband just called me to report he had just barely missed hitting a deer on the way to work. (I think it is state law in these parts that you have to take out a Bambi once a year...) This time of year the deer are almost suicidal in their attempts to escape hunters by crossing major roadways. I keep an ever vigilant peripheral eye out when I drive, but then again, I have the luxury of it being light out when I drive to work.
November 22, 2016 - I had a conversation with a squirrel yesterday morning when I was picking up some of the presents that Jake the Dog had left for me. The squirrel was irate that I interrupted his bird feeder seed stealing time and he let me know in no uncertain terms. It was a younger black squirrel and it took me a while to find him in the tree above my head. He was right at the end of a branch and he was doing the squirrel yell at me - the yell that sounds like a disgusted Marge Simpson on helium. I yelled back at him, but my yell came out more like a I Love Lucy "waaaaaaaaa" sound. We had a call and response session that lasted several minutes and finally the squirrel started making softer noises. I just talked to it after that. Jake was perplexed and confused and wondered off to make more piles for me. I gave up the 'Great Squirrel Debate 2016' and headed back to the house. In the back of my mind the whole time I was 'talking' to him I knew he could be full of rabies and at any given moment launch from that branch and attach himself to my face like a creature from 'Alien'.....
I have the turkey thawing in the fridge and like I said, I am cooking it tomorrow instead of Thursday. I hope this goes well. If not, it doesn't sort of thing. Experiments are trial and error, after all. I will make some cookies and a candy thingy tonight. Tomorrow night I will dust since I've not dusted since I put out the Thanksgiving decorations and the poor turkeys and pilgrims look like they have been in a blizzard which caused excessive dandruff.
I went for my yearly blood draw yesterday morning. I had fasted and attempted this several times over the last two weeks or so, but would always shoot myself in the foot by waking up and drinking coffee right off the bat. Fasting is fasting, after all, and coffee throws a monkey wrench into the works.
My husband and I went to see our son's new house, and we were impressed. It looks so tiny from the outside yet inside it feels so open and roomy on the inside. It was good to see Watson the Granddog and he was so happy to see us. It was a fun visit. After that we stopped at Mernards and got furnace filters and I forced my husband to buy me a new bird feeder because the four I already have are just not enough. I did say once I would be the epicenter of any bird flu outbreaks in Michigan, and I have to live up to that promise...
I suppose I will get ready to go to work in person since I cannot access anything from home. Our VPN is down. Insert loud 'ugh' here...

December 3, 2016 - Ah, welcome December. No snow yet. Not too horribly cold, either. If you are not a winter lover, then you are no doubt grooving on this weather. I thought I didn't want it to snow this year either, but when it was spitting snow earlier this week, I was so hyper at work you would have thought I drank six pots of coffee. (Or maybe I did...one loses track after three...) I also got a burst of energy just a bit ago when I let Jake out and it was spitting snow pellets. Apparently I still adore snow. So much for my "I'm old now and don't like that crap" theory.
My friend Sue had a Birthday party for her sister Grace, who has been my dear friend since Middle School. It was a blast. I ATE SO MUCH. I couldn't stop eating!! I have been trying to be good since Thanksgiving and had lost six pound of fluffy fat, but last night the chip bowls should have just been strapped to my face the way I was eating out of them. Sigh. If it is in my reach, apparently I'll eat it. I would highly suggest you keep small children at arms reach when I'm in a feeding frenzy like last night. Really, I didn't want more, but I ate and ate. I remember when my husband and I lost all that weight back in 2006 and I stated in this blog at the time I would "never go back again" and this is why they came up with the expression, "Never say Never." At the party we played several games and just laughed. It is always so much fun to LAUGH that hard. Common life problems become, well - tolerable when we laugh about them as a herd. None of us suffer alone, that's for sure.
I got a generic bird see and the birds are none too happy about this situation. I knew better than to do that, but is was just so darned cheap!! I am assuming they will eat it when there is nothing to forage for once we get a blanket of snow, right? I decided to get a better quality of bird seed to mix in with the crappy stuff. Maybe that will make them happy. I do love my birds.
I just went out and burned my old Lazy-Boy chair. My husband got me a new chair for Christmas after my old Lazy-Boy bit the big one over Thanksgiving. The new chair is smaller and is a rocker as well. It hugs my butt. I like it.
December 4, 2016 - It snowed a lot today. Wet, heavy snow. I just had to go out and shake off the big, inflatable Olaf out front because he was bent over from the heavy snow. The tree branches are all low from the wet snow, and the decorative grasses are flattened. Very festive! My friend Judy just texted me to tell me her power was out. Bound to happen to people with the heavy snow. So far here, we're good.
I took a lazy day today and did very little. I did make the best chicken noodle soup I ever made tonight, though. My husband kept making 'yum' sounds and raving over it. He had two huge bowls. The bad thing about making the 'best' dish of something you've ever made is you can never make it again. I outdid myself on chicken noodle soup and I will never recreate that divine dish again. I reached my pinnacle of deliciousness a few weeks ago on a batch of beef and noodles. How the universe aligns just right and the 'best' of whatever you have made a million times happens, I don't know. All I know is I'm running out of signature dishes to make the 'best' batch ever and then what? Sigh.
December 14, 2016 - I get sort of depressed when I listen to drug commercials on T.V. nowadays. Stupid laws and lawyers, anyway. What ever happened to the ads of the past where a drug could be touted for its benefits
only
and no one got sued? Sigh. Now you have to hear about the gruesome facts of things that may or may not happen..."Your hair may fall out; Your liver may fail; You may lose your car keys; Your dogs will possibly eat your face off in the middle of the night and barf it up on the Chinese rug; Your neighbors may be abducted by aliens; Your pancreas may explode and kill you while you are pumping gas..."
Earlier tonight when it was still light out there were dancing tornadoes of snow in the field across the road. We are having a lake effect snow and wind event (otherwise known as WINTER) and the snow is really blowing now. It looks rather pretty and and feels very cold. The wind chill is ZERO. Auntie Em!! Poor Olaf the inflated snowman is getting a severe case of whiplash as I type...
It dawns on me that when my life does not have strife or issue, that this blog is very boring. I have been feeling very boring to myself as of late. I will relate, however, some concerns I have about losing my mind. If you are my age, you will totally understand the next spewing forth of words.
Physical Inventory was Monday at work. I work in IT, so I get many calls about issues with data entry concerning inventory things. I dealt with the chaos quite well, I thought, on inventory day. It was yesterday that I felt i suffered a minor seizure or slight stroke. My coworker and I were looking at inventory variances for our boss (who is the company controller) and it took me forever to figure out two different items. I mean, COME ON. I was raised in inventory. I was in production situations all my adult life. I ran a shipping and receiving department! Why was it taking me so long to figure out TWO STUPID ITEM'S DIFFERENCES?!?! This bothered me. Judy wondered what was wrong with me, too. Good Lord. I was getting constant help calls throughout the whole process, but I normally have no issue handling many things at once. I have no clue what was wrong with me. Today I was signing a contract and couldn't remember the year!!
KIDS, GET THE FENCE BUILT NOW!
Sigh. I know we all suffer this type of thing from time to time as we get older, but I scared myself. It won't be long before I wonder off naked in pursuit of butterflies...
I have nothing purchased for Christmas. I am so behind the ball this year. Normally I have all my stuff done on line by now. This year, I've waited so long, I will have to PHYSICALLY go to a store to buy what I want!! Ugh.
I have not done that for years. The internet has spoiled me. I refuse to go to a mall, however. I will be visiting local shops for gifts. SHOP LOCAL (especially when you are me and you are lazy)!!
December 15, 2015 - I posted this on Facebook tonight, but I will also post it here for future reference when I am running naked through town chasing butterflies and my kids feel like reminiscing...
"So, I'm out with Jake the Dog for the last pee of the night (for Jake, not me...but I could pee at any given moment - we all know I have a hair trigger bladder) and I hear the unmistakable sounds of a car losing control. I hear a THUMP and THUD and braking and see a truck take out my mailbox and paper box and spin uncontrollably for a bit and it land in my driveway.
The truck started to drive away, but I made my presence know (I'm a big girl - how could he miss me?) so he stopped in the road and I yelled, "ARE YOU OK?" and the person yelled back "YES!" Then I said, "DID YOU TAKE OUT MY MAILBOX???" and the person started walking back to my mailbox and said, "I THINK SO!" So the young man yelled, "I'LL PULL INTO YOUR DRIVEWAY!" since he was blocking traffic.
I let the dog in and went out the front door and met him. He was a young, young man. I have stretch marks older than this man. I made him carry the poles up to the house. He apologized profusely over and over again and said he got paid on Friday, he could give me some money and he would give me his information...I stopped and looked at him and at this point I have the tell tale sign of older person nose drips starting, and I was sort of crying. "Do you need new tires? Were you texting? I have kids - I don't want to find out one of them were texting and someone carries their body up to the house after they spin to their death..."
He started the apologies again.
"I don't want your money. I want you to drive safe. Michigan is evil when it comes to weather. Don't text. Don't talk on your damned phone. Don't drive too fast for conditions! I would much rather replace a mailbox poll than see your obituary in the paper..." I said to him.
"Ma'am, I'm so sorry. I will pay you!!"
"No dude, just slow the heck down. I don't want your money. You don't make enough to be spending on stupid stuff like mailboxes. You are like 12 years old. You have your whole life ahead of you. You want to live to be old enough to give lectures to shit head little kids that take out your mailbox at night..."
At that point he was quiet and said, "I was driving too fast. I was driving way too fast for this road...It is my Grandma's truck and I'm not used to it..."
"Even more reason to slow the hell down. Where is your hat? Where are your gloves? You want to give me a heart attack, too? It takes six seconds to be responsible for a few things. Take those six seconds, trust me."
He thanked me and practically ran back to his truck, and SLOWLY drove away.
Let this be a sign unto you, for in the city of your residence, a young person will be driving like he's at Indy... SLOW DOWN!!"

I was out there in my long, warm fuzzy nightgown and my husband work boots and my snowflake ear muffs yelling at this poor kids. I must have looked a sight. I had also had a beer, so as my husband tells the story now, "She was out there in my boots reeking of beer, yelling at that poor kid!"

December 19, 2016 - My husband put up the mailbox on Friday night. The kid had just knocked it out of the hole it was in and it did not snap the wood at all. I've got mail! Woot.

We went to my husband's side of the family Christmas on Saturday. It is always fun. My kids were there and we laughed. I love his family like my own. They are an awesome group of siblings. When we were leaving, there was a drizzly wet snow and my youngest hit his sister with a snowball. I grabbed some snow and turn to throw at my wee one, but instead of a playful snowball to the jacket, I nailed him directly in his right eye. The poor kid!! How is that for spreading Christmas joy. I have thrown more things at my youngest son (by accident) than I care to recall...

This week will be a whirlwind of preparing for Christmas. I've not made my neighbor's cookies yet, nor have I finished shopping. I am really behind the times on Christmas this year. Chalk it up to lazy or too busy in general. I think it the 'lazy' part. Yeah, now that I ponder it, I am convinced it is due to 'lazy'...

There is a wind chill of -10 this morning and I can attest to that... This morning Olaf the Inflatable snowman was only inflated on the bottom. His poor middle and head sections were squashed down and to the side and stuck to the ground somehow. I, in my trusty "yell at young drivers" outfit went out to give Olaf CPR. I can only imagine what my neighbors think of me. I just hope I add some whimsy to their day with my antics. I did manage to un-stick the string of lights inside of Olaf that were holding the poor dude down, and he is back up and looking quite stately and Olaffy. (It dawned on me that he was 'frozen' to the ground, and he happens to be from the movie 'Frozen' so the humor was not lost on me as I was freezing my hind quarters off outside trying to revive him...)

December 27, 2016 - Ahhh, what a lovely Christmas weekend it was. The kids are all back home and safe (as far as I know and in my mind they are) and it is quiet again. I hope fun was had by all. Fun was had by ME at least, and Christmas Eve was the best. Such fun. The annual Christmas Uno game always pleases me. Always a riot. I look forward to that every year. Afterwards, my daughter and I danced to a concert we played on a DVD and it was just FUN. Jake has NOT recovered from the Christmas fun due to the fact Watson, my grand dog, being here. Another male throws a monkey wrench into the works. He doesn't act this poorly after a Toph visit. Toph is female and I assume Jake feels no threat from her. However, he still has a "Watson" hangover and won't eat and is just a lump on the couch. He will survive. We have told him over and over again to get over it, but I'm sure that translates to "BLAH BLAH BLAH BLAH JAKEY."

Poor Olaf the inflatable snowman is doing his poor best to hang on through the wind we are having. My husband will take him down when he gets home from work this afternoon. Olaf has been gyrating in a wind seizure for the last 24 hours, the poor thing. All the snow is mostly gone as well. We had a warm up. One day it is near negative wind chill and the next day there is no snow. Gotta love Michigan.

This is end of the year week at work. All will go smooth. I can sense it. We did pretty well on our Dec. 12th physical inventory, so I can only assume end of the year will flow like melted butter.

December 30, 2016 - I was pondering the house in which I live. It is not really a 'house' per say. An old C.B. Radio friend of my Dad's built the house by hand back in the 1950s. It is make of (no doubt lead laden) cement blocks. Clair had intended to make it a garage at first, but then he and Donna ended up living in it as a house. Clair was notorious for collecting scrap and left overs from building sites to incorporate into his projects and I am sure this house is full of pilfered things. Clair did the electric as well. The upstairs is horribly hot in the summer and frigid in the winter. (We all dream of sending our kids to a 'work camp' of sorts to learn how to tough it out in life, but this house served that purpose for my kids.)

We've upgraded the house since moving in back in 1985. She has new windows and a new roof and new siding. (This happened after the storm of 2007. We had not planned to upgrade this place. It was required after nature's assault.) In my heart I had always intended this to be a 'starter' place for my family...that we'd move into a 'real' house eventually - but one thing led to another and it never happened. It is too small for big family gatherings. The house is held together (seriously) with duct tape and pieces of wood here and there and just plain ignoring her.

I do not hate my house. It helped raise some fine children. It has given me 11,315 safe nights. It has kept us fairly warm and relatively dry over the years. I hold no ill will against this house. Yes, I've dreamed of a 'real' house where I have guest bedrooms and a huge living room for family herdings, but we've survived so far and we have done O.K. I used to fantasize about razing this house with machine guns - leveling it to the ground to make it go away, but now I don't wish for that anymore. This "garage" has been good to us, and I just thought I should pay tribute to her after all these years. (Now, as my luck goes, it will explode tonight or all the wiring will fry itself or the lead will kill me in my sleep just because I mentioned the house in a post.)

I guess I wanted to point out that a cardboard box can be a 'home' if there is love and hope and faith inside. I have never been very 'materialistic' about things. I do not keep up with the Jones' as it were. I am not inclined to being fashionable. I am more inclined to be comfortable. My house is small but comfortable. All is well in my world.

I will take down Christmas tomorrow. It is time. It takes so much time to put all the decorations up and so much time to take them down. I will continue to do it until I can't move. I like to keep the Christmas lights outside going until New Year's Day. (Except Olaf the inflatable snowman who is now safe in his box away from damaging winds.)

I just reviewed my blog from this year to recall any awesome moments I may have had. I had awesome moments for ME, mind you. Waking up breathing everyday is an awesome moment for me, to be honest. It was a 'mild' year, really. Had a colonoscopy and my right eye cataract removed. Awesome for both. My daughter got married and the wedding and reception was just a HOOT. I had so much fun at that wedding. I fell in June and ruined my poor knees for life...gee, it was a mild, mild year, really. Well, then there is Trump, but that is a whole 'nother posting....