February 6, 2018 - When I was cleaning off my car this morning, I had two thoughts...February 10 is my Mom's Birthday (and if she was alive, she would have been 96) and we usually have ice storms around her Birthday and I was wondering if we would, indeed, get an ice storm this year? The second thought was concerning the fact the National Weather Service issues Winter Advisories for, well - WINTER. This confuses me - we all know it is going to snow in winter, right? I think they over warn us about obvious things...until you hear about people eating Tide Pods and suing over hot coffee from McDonald's, then you understand that our society has turned into a herd of cows with no common sense, I guess. Sad really. Humans will continue to baffle me.
My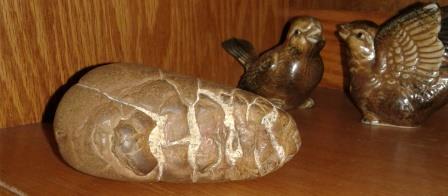 neighbors brought me a present on Sunday! They found the coolest lightning stone and bought it for me. (A lightning stone is: "Septarian "lightning stone" are predominantly made of an argillaceous clay rich carbonate. Their creation dates back to the Devonian period when the Earth's climate change occurred. This forced the clay rich carbonate to harden by chemical desiccation as the inside of the stone begins to dry out forming interesting cracks . At this point in its development these cracks begin to collect and fill in with carbonate silica ground water forming crystals." My rock says "Hi" on the side! I love it. Ron had his leaf blower with him and blew off our cars. He is an artist with that thing. I would have never thought of using a leaf blower to keep up with snow accumulation - but now it make complete sense. Who knew?
Last night when I got home from work I just threw together a salsa ground chicken meat loaf and threw it in the oven. We had mashed cauliflower and mixed veggies and the salsa meat loaf for supper. We've been trying to eat at home which is healthier than eating out and frankly, I am sick of coming up with meal ideas! My husband was not impressed with the feeble attempt at this particular meal. I will be eating the leftovers this time... I am eating a serving of the meatloaf for breakfast now and it aged very well, to be honest. He is missing out... I will taunt him with this fact in an email...
I sent the kids a video of the new toilet flushing. It flushes with such gusto! The kids grew up with a toilet that had to flushed twice, normally - and then you had to play with the handle to stop it from running and sacrifice a duck to please the toilet gods, etc. I am sure they were impressed because who wouldn't be? I bet that thing could suck a plane out of the sky at 30,000 feet, this new one flushes with such fury. "Hey, Kids! Come over and poop in our new toilet and be amazed!" Now how many Mom's do you know that have that bragging right?
February 8, 2018 - Yesterday at work I felt like I was 'winding down' and feeling worse and worse. I called the doctor's office and made an appointment with a real doctor. The antibiotics I got last week from that TelMed doctor managed to fix my laryngitis but other than that, I did not feel any better. Those antibiotics felt like the Red Cross of antibiotics - taking in coffee and donuts for the victims, but I felt I needed a round of National Guard antibiotics to help me. I am glad I went in now - bronchitis and EAR INFECTIONS! They also commented on how red my throat was...What the?!?! I did not know my ears were infected. Go me. I came home with good, kick butt drugs and an inhaler to help me partake of oxygen since that seems to be vital for human survival. I called in sick to work today so I could sleep, but my back up at work had an appointment for furnace repair this morning so I'm working from home until she comes back into work before I log off and go die.
I understand that the 'Healthiest You' thing is great on some levels and saves my company money, but I've come to the conclusion you need boots on the ground and a real medical professional to look into your orifices and assess internal situations. I
should
have done that a week ago, really. I know myself well enough to know I was dancing with something that was stronger than my immune system ....
We are due for some 8" of snow in the next 24 hours or so. Goody. Why not? I mean, it
is
winter still and I would rather have snow than an ice storm. I want my BFF to move back to Michigan but if Michigan keeps being, well MICHIGAN, she never will. She is used to warmer weather now and I will never get her back up here...(I say that while shaking my hand at Mother Nature.) Right now the sun is out and it is bright, but that is a ruse - don't be fooled. I feel particularly cold today for some reason - maybe it is the temperature outside - a steaming 15 degrees (3 degree wind chill). The furnace thermostat in the house says it is 68 degrees so I'm not sure why feel so cold. I might bump it up to 70. I might also soak in a very hot tub before climbing into bed.
February 18, 2018 - There are many deer and geese across the road and Rocko and Jake spent a lot of time protecting us from them just now...Jake was barking and barking and Rocko was stalking and stalking... hahahahahaha. The deer paid no mind to Jake and his barking. I heard Sophie barking at them too. The deer know the dogs are all bark and no bite.
When I got home for lunch the other day, Sophie came over and was jumping around all happy to see me. (I say she was happy to see me but we all know she just wanted cookies.) I let her in and went about my lunch routine and totally forgot she was in the house. About a half hour later I realized she was in the living room. Hahahaha. I gave her a cookie and sent her on her way. I temporarily was holding Sophie hostage. I should have called Sue and Ron and demanded money...
On Thursday morning, my Aunt Jean passed away. I spend a lot of time weeping at work now and then. Thursday night after my husband went to bed, I let it out and cried for a long time. When women start crying that hard, they end up for crying for EVERYTHING SAD, EVER in the history of man, so I had a good soul purge. I posted this on Facebook on Thursday morning, but will save it here as well for future history purposes:
"My Aunt Jean passed this morning. This had me in bouts of tears all day. She was not necessarily like a "Mother" figure to me in my early life, but she was my honorary "Mom" after my Mom passed away in 1998 for we all need a Mom for a long as we can have one, as we all know…
My own Mother was more of a 'martyr' type – always apologizing and feeling inferior to all people all the time. Had I not had my Aunt Jean to balance that, I am not sure what would have become of me. Aunt Jean was feisty and verbal and strong and RIGHT about most things all the time (if you asked her). She showed me a woman could have an opinion that meant something. She showed me women could be leaders and forge paths that no man could. I feel I've become the human I am today with the perfect combination of my Mom and Aunt Jean, which allowed me to become my own person of my own making. I thank both of them profusely every day for that…
My Mom had 5 sisters and two brothers, but Aunt Jean was the closest to us in location so we saw them often. I treasured our trips to play with my cousins, Dan and Dave. I so enjoyed the trips to their house - partially because of the 'junk food drawer' she kept that she let us access freely that swayed me on my visits. Smile. I tried ranch dressing for the first time there – and thought I had died and gone to Heaven. What was this wondrous thing, ranch dressing?! Smile.
She would take me shopping at times and showed me special attention…
She took my brother and I to the Kalamazoo Fair… I had never been to a fair…
Her license plate at the time started with MMJ – "Mean Mary Jean…"
She showed me things I would have never seen had it not been for her.
I will always treasure that.
One day on her way home from work (she was a nurse) she pulled in our driveway (before my Mom and Dad got home from work) and handed me a puppy out the car window and drove away. I don't think she said anything, really – just "HERE." I named the puppy Corky. Corky ended up being the greatest dog ever. My Dad was a hard man and didn't let us have a dog, but how could anyone take a puppy away from a kid once they had named it and had ran it half way around the block? I got to keep Corky…
In their later years, I would clean for her and Uncle Lorin. I would make them dinners. I would bring them food. But the thing I like to do most was make her laugh. She would laugh like my Mom used to, holding it in best she could but she would end up vibrating up and down with joy like Santa Claus. Even if I said something off color, after chastising me, she would rumble…
She had a sharp memory and her memories of events in her childhood were hard for her to overcome. She never did overcome those bad memories. I hope now that she's on her new journey, she can cast away all the bad things that filled her mind and be free, full of love, and full of pure joy. I hope she hangs out with my Mom and I hope she sets Heaven straight, because I'm sure even God needs a good opinionated woman to assist from time to time….
Thank you Aunt Jean, for you."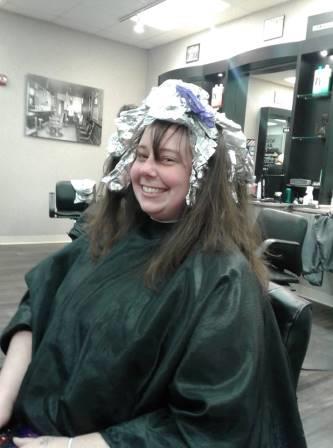 I cried writing it, but not a sad kind of cry. I am full of memories for her and will cherish those. Death is only hard on the people left behind. The people who have passed are free from any of those types of emotions. They are free.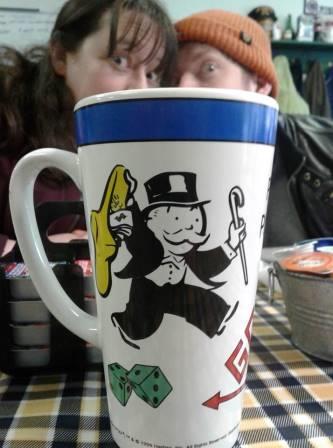 The kids were here over the weekend. They got in on Friday but took my wee one with them to a concert, so we really didn't see them very long. On Saturday we went to breakfast to our favorite diner, the my daughter and I had a "Mommy/Daughter" day out and she got highlights in her hair and I had someone just play with my hair. I needed my daughter after feeling so emotional this week. Saturday night my boys came over and we ordered pizza and sat around and just laughed and laugh. My kids are quite funny and it was a fun,fun night. I laughed so hard and was very grateful I was wearing a pad...

Earlier this week our pump was not keeping pressure. You would have to go out to the pump shed and thunk the switch box for it to work. Thumping the pump in your nightgown when it is 9 degrees out is not enjoyable. My husband fixed the pump switch on Tuesday night so we have a fully pressurized tank. (I am lucky to have a husband that can fix things.) Our water 'round these parts is 99 percent iron, dark matter, and other minerals and 1 percent actual water, so the disruption of the water tank caused much gunk to break free in the water lines. This caused the screens on the waterlines to the washer to become plugged up (or I should say MORE plugged, since obviously the feed to the washer has been getting worse and worse over the last few years). It was taking 1.5 hours to fill the washer!! Thursday night we moved every thing in the utility room to get to the back of the washer and clean out those screens. Now the washer fills so fast I sometimes miss the rinse cycle. I'm glad I have dryer sheets on hand... Between staring at the new toilet flushing like a hurricane and being amazed, we are now are amazed by how fast the washer fills. We cannot handle so much excitement in one lifetime.

I am feeling ever so much better now that I do not feel bad anymore. Antibiotics are marvelous things. I hope this round of being ill is all I have to endure for a while. At least it was a 'working' illness and did not have be in bed and dying. Still, no more for a while, please.